Not everyone needs or even wants optics for their AR 15. This article is going to look at all the non-optic sight options available. We will look at fixed sights, angled sights, flip-up sights, open sights, and peep sights. The following sights are often available in iron, polymer, or aluminum. So, they can be purchased or configured to fit your individual needs.
When shopping for sights be sure to buy the sights in a set for easiest installation and zeroing in. a typical set of sights will include the front and rear sight. They come in a range of factory colors such as Black, FDE, Grey, and OD Green.
Fixed Sights
Fixed sights these are the tried-and-true sights that have stood the test of time. These sights are fixed to the top of your rifle. The name is slightly misleading, because they are fixed, but they are still adjustable so they can be zeroed in. These are slightly more cumbersome as they do not fold down out of the way for storage.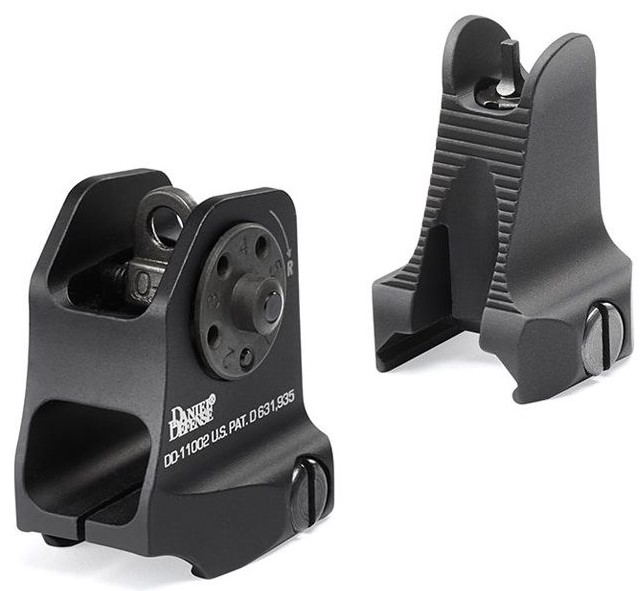 They are also more likely to snag on or hook if you are going through think brush. The good thing is there is less to go wrong with them, because they do not move, they are always ready for use without needing to remember to flip them up and into place.
Fixed sights come in aluminum, steel, and polymer as well as in multiple color options. Here is a set of one of our favorites from Daniel Defense. These are the Daniel Defense AR-15 IRON SIGHT SET (ROCK & LOCK®).
They are built from the highest quality aircraft grade aluminum so they will never let you down. Accuracy and usability depend on the quality of the sights. Consisting of the A1.5 Fixed Rear Sight and Rail-Mounted Fixed Front Sight, this iron sight set will provide a lifetime of service. The A1.5 Fixed Rear Site makes the optimum back-up sight for shooters who decide to use reflex optics as a primary sight.
Angled Sights
Angled sights are one of the best designs for adding back-up sights that are out of the way. Having them offset at an angle (often 45 degrees) they set out of the way so you can use an optic if you want as a primary sight.
Offset sights can be very useful if your primary optic device suddenly fails. Because it may otherwise leave you without a way to aim.
But more importantly, offset sights make it easier to go between short and long-range targets without having to fiddle with your optic mount. Keep in mind, in a real-life scenario, nobody has the time to remove their scope before engaging their target.
Keep in mind, there is a learning curve to use offset sights. It might take some shooters some time to get used to rotating their rifle, especially when they need to take a shot in a short amount of time.
Flip-up Sights
Flip-up sights allow the operator to fold the sights down when storing or using a different type of optic. Fold-down sights flip up and come both spring-loaded and/or manual opening. Depending on what you need there is a large variety to choose from with flip up sights.
The quality of flip up sights is getting better all the time because manufacturers are taking a stand and producing high quality products. Magpul, Yankee Hill Machine Co, and Leapers/UTG to name a few. Here is a link to the Sights lineup Black Rifle Depot carries in stock now.
Open Sights
Open sights are those that maintain an open aperture. This makes it easier to see the target but requires better eyesight to maintain aim with them. It is also slightly more work on the part of the shooter to keep the target sighted with successive fire. Here are a few examples of what open sights look like.
These are tougher to find. Most brands are making Peep Sights because they work better. That said, many older rifles are still boasting open sights.
Peep Sights
Peep sights allow the shooter to "peep" or peer through the aperture and find aim easier with less time focusing the eye. It is a small hole rather than an open area to aim with. Because the shooter tends to automatically place the front aperture in the center of the hole in the rear sight, aiming is often more accurate with properly zeroed sights.
The Best AR 15 Non-Optic Sights
If you are in the market for a non-optic sight for your AR 15 Black Rifle Depot, has you covered. They have a large selection of in stock sights to choose from. You can buy sights from your favorite manufactures like Magpul, UTG, BRD OEM, Daniel Defense, and Yankee Hill with fast friendly 5-star customer service.
In Case You Are Interested in Seeing the Different Sights on Video
We made a short video that shows the different types of sights on a handrail. It is just a quick look at the the differences.
Recent Posts
Is the AR-15 suitable for hunting?When it comes to hunting, traditional bolt-action rifles have ofte …

The AR-15 in the Context of Home DefenseThe topic of home defense is a contentious one, filled with …

Enhancing Your AR-15: The Ultimate Guide to Accessories & UpgradesRegarding the world of firearm …