BRD's 10.5" 5.56 NATO AR 15 Pistol Kit
The 10.5" 5.56 NATO AR 15 Pistol Kit comes with everything need to finish your AR 15 lower receiver. This kit includes a complete 10.5" 5.56 NATO Pistol upper with Black Nitride M16 Bolt Carrier Group and mil-spec charging handle. We also added a complete AR 15 Pistol Lower Build kit which has a lower parts kit and pistol buffer assembly. All you need is time to assemble it and your own lower receiver.
The Standard Lower Build Kit from Black Rifle Depot
Black Rifle Depot delivers a true Mil Spec AR 15 Lower Build Kit. It comes with everything you need to complete your AR 15 and variant lower receiver. The AR 15 Pistol Lower Build Kit has a pistol buffer assembly and standard OEM AR 15 Lower Parts kit. This kit is equipped with the BRD Lifetime Warranty.
Frequently Asked Questions:
Does an AR 15 Pistol Lower Build Kit include a Buffer Tube?
At Black Rifle Depot, we believe everything you need to complete the build out of your pistol lower receiver should be included in a Pistol Lower Build Kit. So, they include a pistol buffer tube assembly with your kit. Keep in mind that the type of buffer and tube you use will depend on if you decide to utilize a brace, the type of brace you use, and your local laws governing the parts you can use on your AR 15. The standard pistol lower build kit includes a standard pistol buffer and tube. The kits that include a particular brace system, will come with the appropriate buffer and tube for the setup described.
Is a Complete Pistol Lower Build Kit Worth it?
When asking yourself "is a complete pistol lower build kit worth it?" The answer is a resounding yes! Because the time to piece together a lower with compatible parts can chew up the better part of an afternoon, besides checking to see if the items are in stock and will arrive on the same day. Getting an all-in-one kit that allows you to focus on the assembly of the parts without worrying if they all work together is priceless. Typically, the shipping is reduced because you do not need to shop separate websites as well as arrival of the pieces being synchronized. For new and seasoned builders using a complete build kit can be a life saver. Shop the large selection of AR 15 Lower Build Kits here.
Is an AR Pistol for Everyone?
Building an AR Pistol is a fun and exciting way to experience the joy of building and shooting your own weapon. When buying AR parts it is important to remember that who you buy from is just as important as the parts you purchase. BRD has loads of AR parts from all the top suppliers and more importantly you get the Black Rifle Depot 5-Star customer service pledge. You not only get fast shipping on all orders, but you also shop live inventory at blackrifledepot.com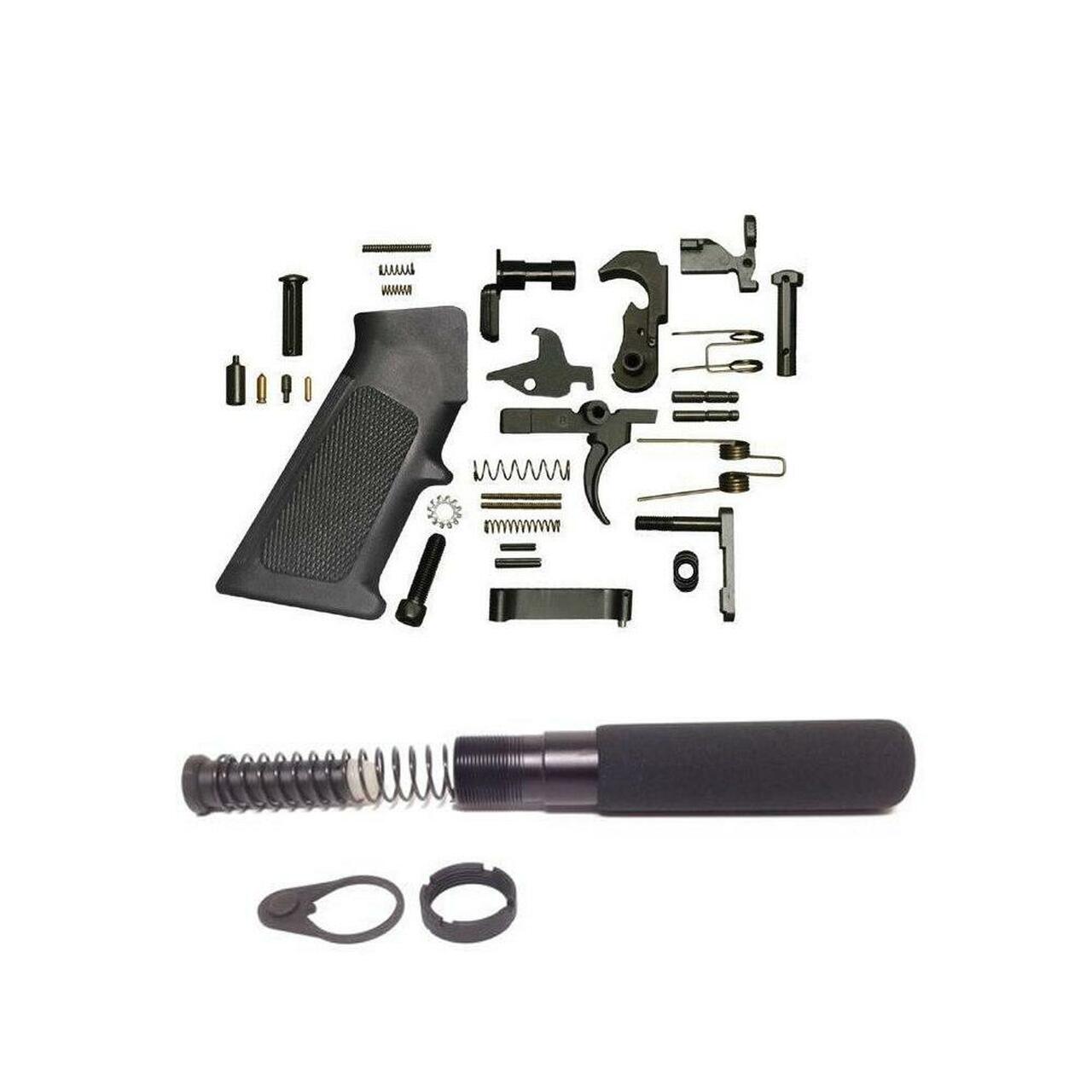 Does a Pistol Lower Build Kit Include a Brace?
Yes, no, and more accurately, only if you want one. Depending on the pistol lower build kit you are looking at, it may include a brace, or it may not. When buying a build kit, the beauty of the kit is you can buy the exact kit you want that includes only the parts and accessories you want. Black Rifle Depot specializes in putting together AR 15 Build Kits for those who have discriminating tastes and no time to waste individually choosing parts to assemble. BRD has spent the time ensure that each kit buyer is satisfied and so happy that they want to share their experience with others. So, get yourself a build kit and tell your friends!
Recent Posts
The future of the AR-15The AR-15, born from the innovative mind of Eugene Stoner in the late 1950s, …

Is the AR-15 suitable for hunting?When it comes to hunting, traditional bolt-action rifles have ofte …

The AR-15 in the Context of Home DefenseThe topic of home defense is a contentious one, filled with …