Shop Now for the Best Lower Parts Kits Available
Buying an AR-15 lower parts kit is an intelligent, time saving decision for most builders. The reason is simple: Having all of the small parts you need organized and compiled for you is just a tremendous help as you build your AR. In the event you need a little more convincing about the many benefits of buying a complete lower parts kit package check out the article: How to Choose the Right AR 15 Lower Parts Kit for your next build.
Now let's say you've decided to buy a lower parts kit, but don't know which one to purchase. It's normal to want to make sure what you're buying is good-to-go. When it comes to firearms, quality matters. This goes doubly so for parts that literally hold together the guts of your build. It makes sense to want to buy a quality lower parts kit.
Who to Believe?
So which AR 15 lower parts kit justifies you spending your hard earned money on it? If you were to spend the next few hours online, you'll find a myriad of distinct opinions. Some builders insist all lower parts kits are the same and recommend to everyone that they just buy the cheapest. While others are certain that there is a difference between brands and types of lower parts kits. The majority will insist that you at very least look for a lit that is Mil-Spec.
You are also very likely to find some builders who are willing to share their own bad experiences when buying or using inferior discount parts having used the cheapest parts kit available.
So, who is correct and who should you believe? Are all AR 15 LPK's really all the same? Having touched and used hundreds of lower parts kits, for us at Black Rifle Depot the answer is simple.
Avoid Unnecessary Frustration
Simply put, we firmly believe the overall quality of lower parts kits is NOT the same. We also believe the phrase "buy once, cry once" was meant for the purchase of AR 15 Parts. This means that while you cry at the price of the parts, you never cry at the cost. A good parts kit runs a little more than do discount parts, but the value greatly exceeds the additional price.
Building AR's is our passion. We've been at this for years and have experienced first-hand all of the confusion and frustration AR builders experience with a new build - especially their first one. Black Rifle Depot was created for hobbyists by a hobbyist to help mitigate some of that confusion and frustration by creating packages to make building fun.
As such, our advice for beginners is to spend a little bit of time on research before you purchase. Plus, be prepared to pay for quality parts, especially for critical moving parts. You can buy knock off accessories that are glam pieces, but never take chances with important components. It can save you time, money, and injury.
Black Rifle Depot only sells top quality AR-15 lower parts kits so rest assured that any parts kit you purchase from us has been tested and approved by our builders, not to mention are good enough to carry our lifetime warranty. Buying an affordable, high quality AR-15 lower parts kit from your reputable source Black Rifle Depot is a great way to save time, money and avoid any possible hair-pulling moments as you work your way towards completing your AR-15 lower receiver.
What is the Difference?
One of the most common eye catching differences between high quality and discount parts its is the overall "fit and finish." You do not have to be a seasoned professional to quickly see the difference when side by side. Excellent fit and finish is an important consideration when assembling the parts and the functionality after installation. To be able to truly trust your build, you want to know the parts slid nicely into place and fit properly without having to be forced or altered.
As we select a quality lower parts kit, we also pay some mind to the materials used to create the components. We look for detents that shouldn't corrode. We also look for high-quality springs (made form spring steel), good roll pins, and smooth, crisp triggers.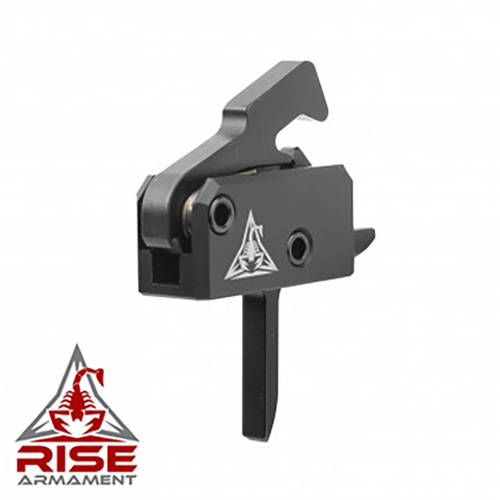 A Good Trigger Matters
Speaking of smooth, crisp triggers - on some lesser, lower quality parts kits, the quality of the trigger pull leaves a lot to be desired. Frankly, it's one of the most common complaints we hear about others low-quality lower parts kits. The fact is not all triggers are the same and some lower parts kits come with better triggers than others. And believe us, you most certainly want one that's smooth and crisp, not clunky and gritty.
What Lower Parts Kits to Consider
So, you want good parts that provide a good fit, and you want a trigger that isn't sloppy or gritty? Let's take a look at just a few of the options available at Black Rifle Depot.
APOC Armory Enhanced Lower Parts Kit

If you're looking to take a relatively inexpensive lower parts kit with a quality trigger, the APOC Armory Enhanced Lower Parts Kit might be for you. Every component in this AR-15 lower parts kit is American made and backed by a lifetime guarantee. Fit and finish is excellent, with the parts black nitride finished for added corrosion resistance. The trigger is also very nice. You can expect a very smooth trigger pull, with a crisp break right around 6 lbs.
We also sell the APOC Armory Enhanced Lower Parts Kit with a Magpul MOE grip, which is one of the most popular grips on the market today. This grip replaces the mil-spec grip that is normally included in the APOC Armory Enhanced Lower Parts Kit.
AERO Precision AR-15 Lower Parts Kit

Another high-quality AR-15 Lower Parts Kit that deserves mention is the AERO Precision Lower Parts Kit. Basic research shows the AERO Precision AR-15 lower parts kit is widely trusted by builders everywhere. We wholeheartedly agree with that consensus. AERO Precisions' mil-spec dimensions and coating on components included in the lower parts kit ensure the highest quality and correct component interface.
The first-hand feedback we hear at Black Rifle Depot on the AERO Precision AR-15 lower parts kit has been tremendous, but especially so in regards to its trigger. This is one lower parts kit you should certainly not overlook.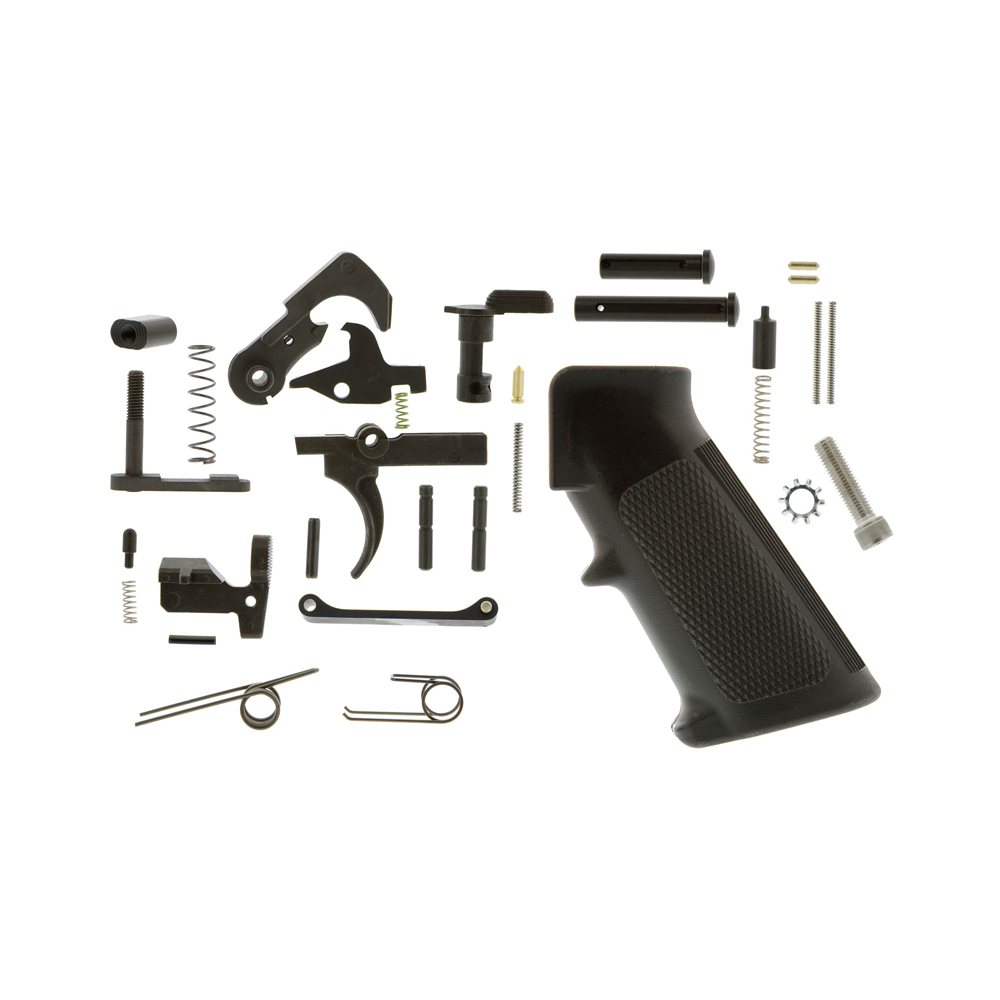 If you do a bit of reading on what lower parts kits are good-to-go, you are certainly going to see the CMMG AR-15 lower parts kit mentioned, and for good reason. CMMG AR-15 lower parts kits are known throughout the gun industry for exceeding standards for mil-spec lower parts kits. When it comes to build kits with quality springs and detents, like the other kits on this list, the CMMG kit is also an excellent choice. As a helpful bonus, CMMG AR-15 lower parts come in color-coded bags for easy assembly. The trigger on the CMMG is also quite nice. It has a short, crisp pull with no grit.
AR-15 Lower Parts Kit With 3.5 LB Drop-In Trigger

Finally, the AR-15 Lower Parts Kit with 3.5 LB Drop-In Trigger from Black Rifle Depot is certainly one to look at if you're looking for an affordable, yet super crisp trigger. This lower parts kit includes a 3.5 LB sporting drop in trigger that breaks clean and has none of the mush or grit found in some of the lesser lower parts kits.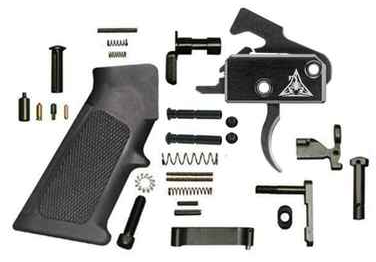 Let Black Rifle Depot Help
So, if you're looking for the best quality AR-15 lower parts kit for your next build, we have you covered at Black Rifle Depot. No matter which AR 15 LPK you choose, you can be confident that all the parts you need will be there, and that you'll be choosing a high quality kit that will serve you and your build well. If you have any further questions about what is the best AR 15 lower parts kit for your build, please do not hesitate to call or email. We'd be happy to walk you through the basics and send you well on your way to a complete AR lower receiver.
Recent Posts
Most American gun owners know that the AR 15 is one of the most popular rifles on the market. Becau …

The Impact of COVID-19 on the Firearm IndustryUnless you have been living in a cave or your secret …

AR 15 Charging HandlesAt first glance, an AR 15 charging handle looks like nothing more than a …