The Importance of a Quality Lower Parts Kit
Are you diving into building your AR-15? Consider snagging a lower parts kit! Why? Well, imagine having all those intricate bits and bobs neatly sorted and ready just for you. It's like having a personal assistant for your AR build. Would you still be on the fence? Dive deep into our article, "Choosing the Perfect AR-15 Lower Parts Kit for Your Build," and discover the advantages you've missed.
Okay, so you're sold on the idea but swamped with choices? We get it. Choosing the right kit can be daunting, primarily when the heart of your firearm relies on these components. Quality isn't just a buzzword here – it's essential. Make a wise choice and invest in a top-tier lower parts kit.
Navigating the Maze of Opinions:
With a plethora of AR-15 lower parts kits in the market, where should your hard-earned cash go? Dive into any online forum, and you'll be overwhelmed by contrasting views. Some seasoned builders might nudge you towards pocket-friendly kits, claiming they're identical. Yet, others passionately argue the nuances between brands and stress the significance of Mil-Spec kits.
You'll also stumble upon those who've learned the hard way, lamenting their choices of budget kits and their resulting pitfalls.
Amidst this sea of opinions, what's the real deal? Is there a one-size-fits-all answer when it comes to AR 15 LPKs? Having sifted through countless kits, our stance at Black Rifle Depot is crystal clear.
Eliminate Build Blues: Choose Quality Over Cost
Here's the hard truth: Not all lower parts kits are created equal. Ever heard the saying, "Buy once, cry once"? It perfectly encapsulates our perspective on AR-15 parts. Yes, you might cringe at the initial price, but the peace of mind and durability these parts offer far outweigh the initial cost.
Our dedication to building ARs is deep-rooted. Over the years, we've seen the highs and lows builders face, especially those crafting their first AR. Black Rifle Depot was born out of this understanding. Our mission? To transform AR-building into a smooth and enjoyable journey. We've curated packages to make the process straightforward and delightful.
Our advice for those new to the AR scene is clear-cut: Take a moment to research. Prioritize spending on quality, especially when it comes to vital moving parts. Accessory embellishments can be inexpensive, but quality is non-negotiable regarding essential components. This approach not only saves potential repair costs but also prevents possible mishaps.
At Black Rifle Depot, excellence isn't just a buzzword; it's our benchmark. Every AR-15 lower parts kit we offer carries our seal of trust and our lifetime warranty. By choosing us, you're buying parts and investing in reliability. Let's make your AR-15 lower receiver journey smooth, efficient, and, most importantly, enjoyable.
Spotting the Distinction: Quality vs. Discount Parts
At a glance, what distinguishes a high-quality part from a discount one? It's the impeccable "fit and finish." Even if you're new to the AR scene, placing the two side by side immediately reveals the disparity. A perfect fit and sleek finish aren't just about aesthetics but play a pivotal role in the assembly process and subsequent functionality. Trust in your build comes when parts seamlessly fit without undue pressure or modifications.
When cherry-picking the finest lower parts kit, material quality is paramount. We zero in on corrosion-resistant detents, resilient springs crafted from spring steel, sturdy roll pins, and triggers that deliver a smooth and clean pull.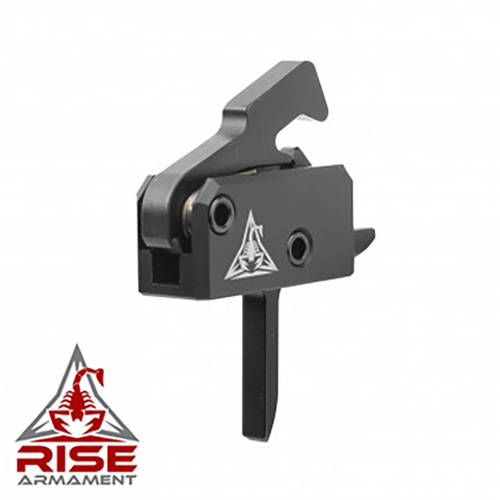 The Power of a Premium Trigger
Diving into the intricacies of smooth, crisp triggers - it's startling how often they're undervalued. A poor trigger pull is among the complaints about subpar lower parts kits. But here's a revelation: not all triggers are born equal. Indeed, the variation in quality and functionality can be vast.
Some may wonder, "Why the emphasis on a good trigger?" Beyond mere functionality, the trigger is the tactile bridge between the shooter and the firearm, and a smooth, predictable trigger enhances accuracy and confidence. A clunky or gritty trigger isn't just annoying – it can harm your shooting experience, introducing inconsistencies and frustrations.
In your AR-15 journey, prioritizing a quality trigger is akin to a musician choosing an instrument that resonates perfectly. It's not just about firing; it's about harmony, precision, and performance. So, when selecting your lower parts kit, always seek one with a trigger that promises reliability and finesse.
What Lower Parts Kits to Consider
So, you want good parts that provide a good fit and a trigger that isn't sloppy or gritty? Let's take a look at just a few of the options available at Black Rifle Depot.
APOC Armory Enhanced Lower Parts Kit

If you want a relatively inexpensive lower parts kit with a quality trigger, the APOC Armory Enhanced Lower Parts Kit might suit you. Every component in this AR-15 lower parts kit is American made and backed by a lifetime guarantee. Fit and finish are excellent, with the parts black nitride finished for added corrosion resistance. The trigger is also very nice. You can expect a smooth trigger pull with a crisp break of around 6 lbs.
We also sell the APOC Armory Enhanced Lower Parts Kit with a Magpul MOE grip, one of today's most popular grips. This replaces the mil-spec grip typically included in the APOC Armory Enhanced Lower Parts Kit.
AERO Precision AR-15 Lower Parts Kit

Another high-quality AR-15 Lower Parts Kit that deserves mention is the AERO Precision Lower Parts Kit. Basic research shows that builders everywhere widely trust the AERO Precision AR-15 lower parts kit. We wholeheartedly agree with that consensus. AERO Precisions' mil-spec dimensions and coating on components included in the lower parts kit ensure the highest quality and correct component interface.
The first-hand feedback we hear at Black Rifle Depot on the AERO Precision AR-15 lower parts kit has been tremendous, especially regarding its trigger. This is one lower-parts kit you should certainly pay attention to.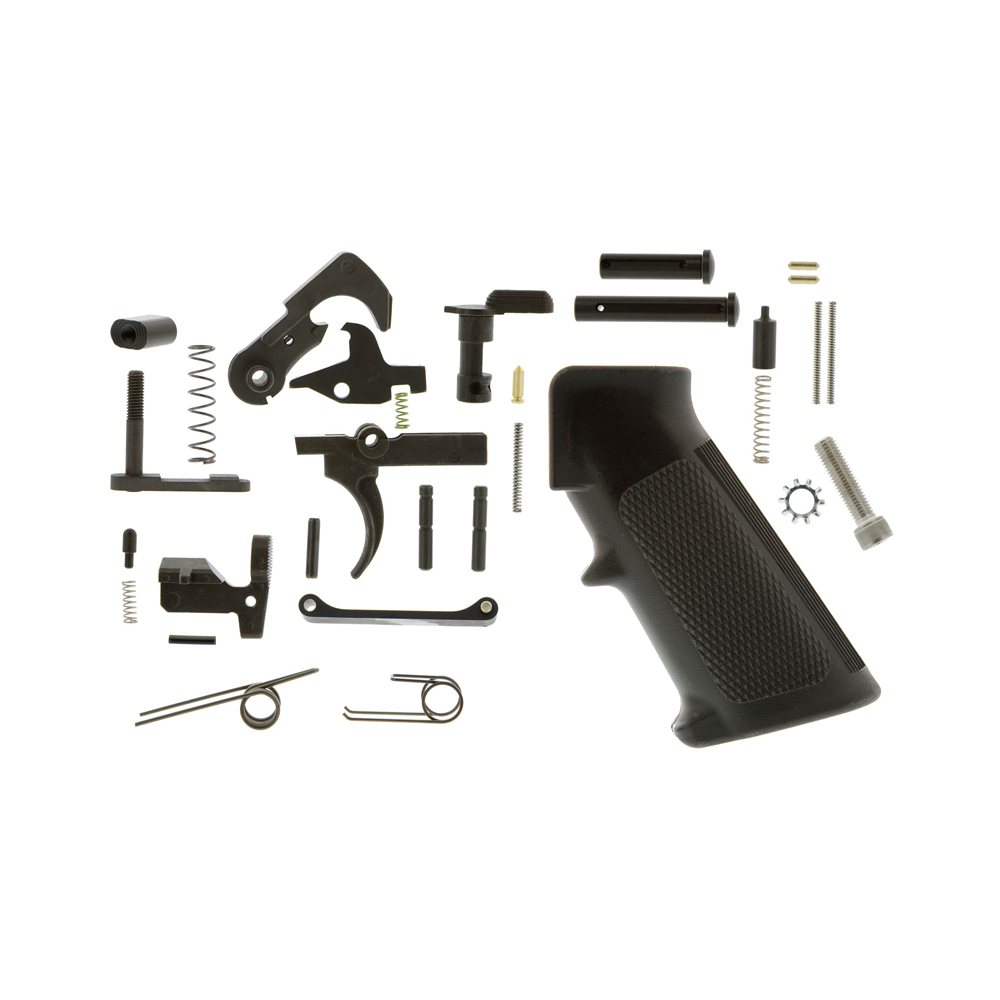 If you do a bit of reading on what lower parts kits are good-to-go, you will undoubtedly see the CMMG AR-15 lower parts kit mentioned, and for a good reason. CMMG AR-15 lower parts kits are known throughout the gun industry for exceeding standards for mil-spec lower parts kits. Like the other kits on this list, the CMMG kit is also excellent for building kits with quality springs and detents. As a helpful bonus, CMMG AR-15 lower parts come in color-coded bags for easy assembly. The trigger on the CMMG is also quite lovely. It has a short, crisp pull with no grit.
AR 15 Lower Parts Kit with 3.5 lb Drop-in Trigger

Finally, the AR-15 Lower Parts Kit with 3.5 LB Drop-In Trigger from Black Rifle Depot is undoubtedly one to look at if you're looking for an affordable yet super crisp trigger. This lower parts kit includes a 3.5 LB sporting drop-in trigger that breaks clean and has none of the mush or grit found in some of the lesser lower parts kits.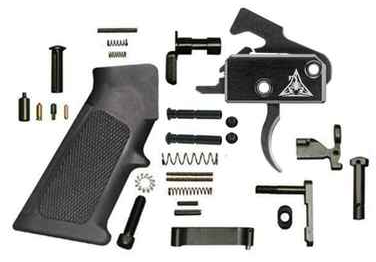 Let Black Rifle Depot Help
So, if you're looking for the best quality AR-15 lower parts kit for your next build, we have you covered at Black Rifle Depot. No matter which AR 15 LPK you choose, you can be confident that all the parts you need will be there and that you'll select a high-quality kit to serve you and your build well. If you have further questions about the best AR 15 lower parts kit for your build, please do not hesitate to call or email. We'd be happy to walk you through the basics and send you well on your way to a complete AR lower receiver.
Recent Posts
The future of the AR-15The AR-15, born from the innovative mind of Eugene Stoner in the late 1950s, …

Is the AR-15 suitable for hunting?When it comes to hunting, traditional bolt-action rifles have ofte …

The AR-15 in the Context of Home DefenseThe topic of home defense is a contentious one, filled with …