Aero Precision Manufacturing started making aerospace parts before beginning to make AR components. Because they had been used to working under high demand conditions and delivering parts to exacting standards, they were a natural place for big name suppliers to contact when they could not find enough parts to fill demand.
Aero Precision initially began manufacturing upper and lower receivers for a few of the big names in the industry. In fact, they still do. But they have also built on their shiny reputation to become a recognized brand in their own right.
As Aero Precision continued to evolve and enjoy some early success, they grew their manufacturing of AR parts exponentially. They even purchased new state of the art machines to ramp up production. The early acquisition from the Tacoma, Washington Based company, Aero Precision of the Somersworth, New Hampshire precision machining company Fall Machine showed just how serious they were about keeping the quality high on the expanding catalogue of parts.
Does Aero Precision Make Good Parts?
Aero Precision has always maintained very high standards of quality control, carried over from their aero space manufacturing days. Because they order the raw materials and machine them to exact tolerances before finishing them to show quality, they have consistently been able to produce some of the highest quality products on the market.
The reason their products do not carry the price tag that would be more indicative of the level of quality is because they do not have to use any third-party middlemen that typically raise the cost. They also do not yet have a brand name that requires a heavy reimbursement to cover massive marketing campaigns, like so many of the other branded products on the market today.
Is Aero Precision any Good?
All of the raw materials used to manufacture parts at Aero Precision are 100% US sourced. In fact, they do not import a single piece of aluminum for any of their Aero Precision parts. They are proud of that fact they make American Parts from American Suppliers.
So, Aero Precision uses the very best materials on the absolute most state of the art machines. They do this so they can yield the best consistency across the board for their growing catalogue of products. To date they have been doing that for over ten years and their reputation has grown consistently over time. Online as well as in person people commonly refer to Aero Precision parts as "the best value on the market".
Is Aero Precision as Good as BCM?
The short answer is yes if you factor in all variables. Aero Precision Manufacturing products are made to mil-spec. They are far more affordable. Plus, the difference in cost is not worth the slight increase in quality to most gun owners and shooters.
The question is very much like asking is a Lexus as good as a Lamborghini. "good" becomes a subjective term. Are they both high quality? Yes. Are they both reliable? Yes. Do both serve a purpose? Of course. But is it the same to have a Lexus or Lambo? The answer is no, but that being said, if you need, want, and can afford the Lexus, should you not buy it because the Lamborghini is considered better by some people?
Who Makes Barrels for Aero Precision?
That is a tricky question. They do, at least they do through their partner company Ballistic Advantage. Aero Precision bought out a majority share position of the Ballistic Advantage Barrel Manufacturing Company.
Ballistic Advantage makes all of their Modern Series and Performance Lines barrels from 4150 chromoly vanadium steel. They also use a FailZero nickel-boron finish on the barrel extension as well as individually high-pressure testing and magnetic particle-inspecting them.
Their Premium series lineup is constructed using 416 stainless steel. They also have a recessed target crown and are finished using bead-blasting. These premium barrels also have FailZero nickel-boron barrel extensions as well as being HP and MPI-tested. Both the companies have well-established reputations from delivering above-average products at extremely competitive prices.
What Makes Aero Precision Parts Different that Other Mil-Spec Products?
The term mil-spec refers to certain measurements and consistency with regards to the design. Some companies have a much broader range of tolerance, but still manage to officially qualify as mil-spec.
Aero Precision parts, on the other hand, use machines that allow them to make their tolerance spectrum much tighter than most. So, while two parts that claim to be mil-spec are probably mil-spec in nature, the precise way that Aero Precision parts fit together and work with other higher end products is markedly noticeable. You will be happy with the level of quality you receive from your Aero Precision parts.
What to Expect from Aero Precision in the Future
Aero Precision plans to continue making high-quality parts and using their in-house production to keep costs down for consumers. They are committed to maintaining a channel for first time buyers as well as custom builders a product to buy with confidence and assurance that they are getting a top quality part at an affordable price.
Tack a quick look at some of Aero Precision's lineup of products: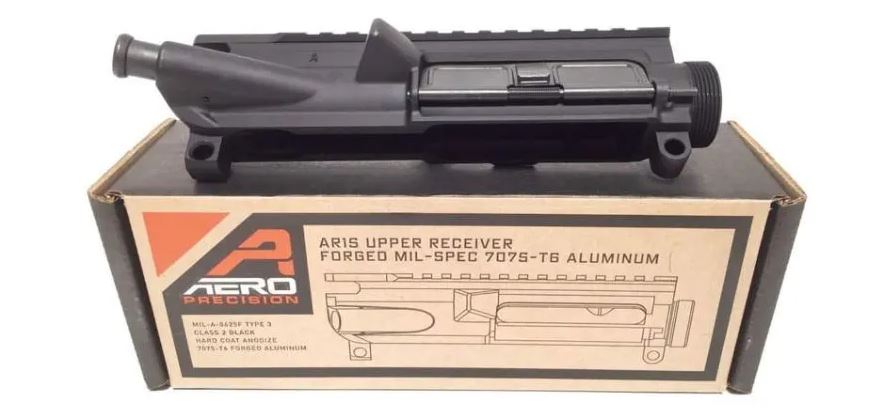 Recent Posts
Is the AR-15 suitable for hunting?When it comes to hunting, traditional bolt-action rifles have ofte …

The AR-15 in the Context of Home DefenseThe topic of home defense is a contentious one, filled with …

Enhancing Your AR-15: The Ultimate Guide to Accessories & UpgradesRegarding the world of firearm …