Choosing the Correct AR 15 Upper Receiver For Your Needs
Buy an AR-15 Upper Receiver here.
At Black Rifle Depot, we offer several different options of upper receivers at different price points. Depending on your budget and your ultimate plan for your new build, you might be just fine with a low-cost aluminum forged upper from a company like Anderson Manufacturing. Or, if you're wanting to step up, assembled upper receivers offer a few more features and have a few components already installed.

When it comes to budget-friendly upper receivers that you can trust, I've always been a fan of the Anderson Manufacturing stripped upper receiver. For the price you're paying, the quality of this upper has never ceased to amaze me. I'll admit that the low price of this upper can be problematic…I sometimes buy a few of these at a time, and it leads to builds that I would not have otherwise considered. It's a case where I'm saving so much, I end up spending more because of it. Beyond the fact that it can lead to unintended builds, I've never had a single issue with an Anderson stripped upper, nor have I had a build where this upper did not fit together with everything I threw into it. I've also paired this upper with numerous lowers and it's always been a tight fit. In summary, I've never had an issue with functionality over numerous builds, and when you take a look at the balance of quality and price that this upper receiver offers, it's well worth trying. As far as build specifics, the Anderson Manufacturing stripped upper receivers are forged from Cerro Forge 7075-T6 aluminum forgings, and each stripped upper receiver comes with M-4 feed ramps and are type III hardcoat anodized black for corrosion resistance. The top is cut with a picatinny rail system and is compatible with most accessories.
Do be aware that one thing this budget AR upper receiver does not have is T-marks…so if this is important to you, you might want to look into our next option, which I actually think is best for most builders out there, if you have more funds to put towards your build.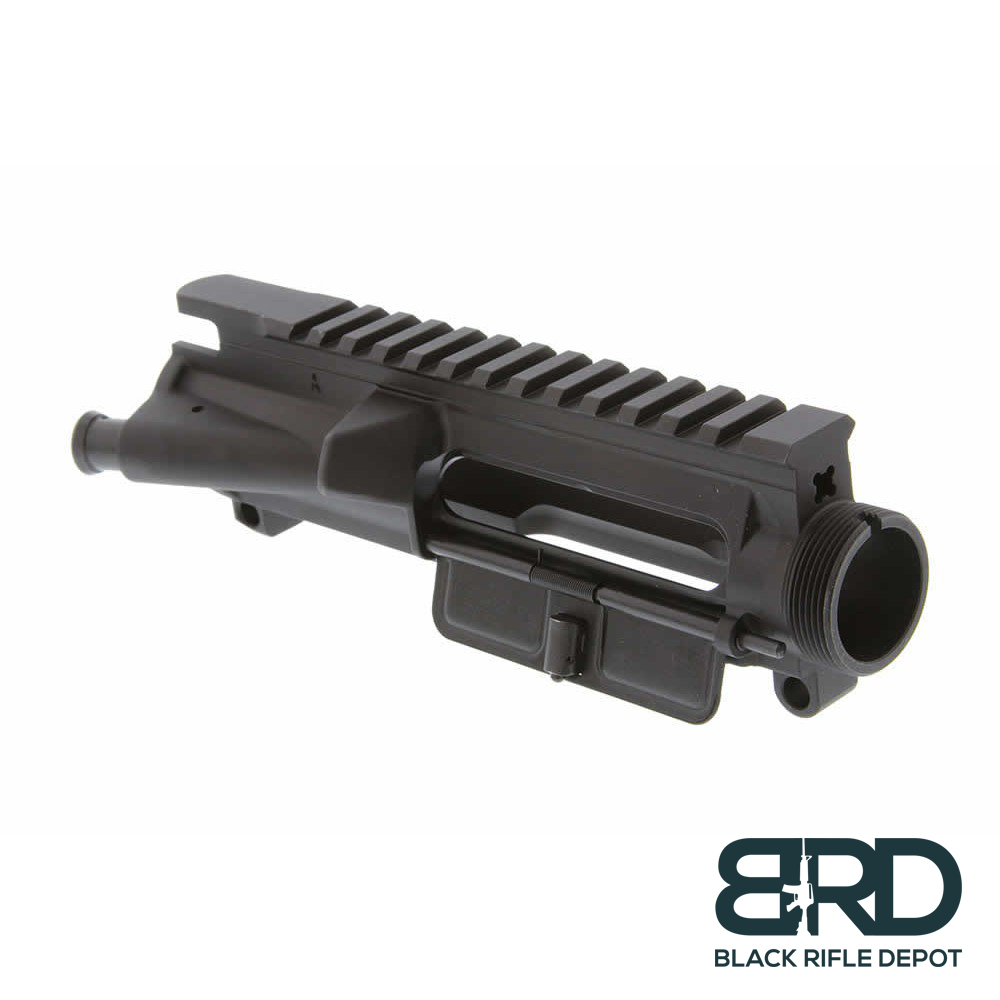 For many builders, the Aero Precision upper receiver is a top choice when it comes to price and features. I know many expert level builders who use this AR upper receiver exclusively. If you're looking for the absolute sweet spot when it comes to quality and value, there's a strong argument to be made that this is as good as it gets.
It's also an upper receiver that will save you a bit of time as you begin your build. The Aero Precision upper receiver arrives with the port door and forward assist factory installed. What's nice about this, aside from the time it saves, is you're really not paying extra for this privilege.
What's also nice about the Aero Precision Assembled Upper Receiver is that it is a name that is universally recognized as being good-to-go. The fit is super tight meaning zero play is present with lowers from a wide variety of manufacturers.
It's also a great looking upper receiver, with a nice dark and uniform finish. This upper receiver is also a no-brainer should you be using Aero parts for the rest of your build, which is something that many new builders prefer to do. The idea of having parts come from mostly one company can be comforting as one approaches their first build.
As far as specifics on the Aero Precision upper receiver, it is crafted from a 7075-T6 aluminum forging machined to mil-spec, including M4 feed ramps. The upper receiver is then Type III Class 2 hardcoat anodized and laser engraved with T-marks.
The final upper receiver I'd like to highlight is from Faxon Firearms. You're paying a bit more for this, so it's not necessarily for everyone, but if you're looking for a super high-quality upper receiver with a gorgeous Type III Hard Coat Anodizing finish, this is the upper receiver to go with.
It's also an ideal upper receiver to go with if you're planning to Cerakote your finished product. The reason why is the T-marks on this upper receiver are truly engraved, versus being laser engraved. Too often, builders with Cerakoted laser engraved uppers find their engravings don't look ideal after the Cerakote has been applied. This will not be the case with the engraved Faxon upper receiver. The engravings here are pronounced enough that they are clearly visible after your Cerakote treatment is complete. It's a small thing, but it's well worth knowing about before you send your build in for its new finish.
With the upper receiver, for the price you're also getting a dust cover and forward assist as a part of the package. Do keep in mind, however, that they are not installed on the upper receiver.
As for the full range of benefits this upper receiver offers, via Faxon:
1. The upper receiver is trued (blueprinted) by Faxon at the factory.
2. We hone the inside bore to smooth out the action of the bolt carrier group.
3. Hollow-out the shell deflector to reduce weight and look great.
4. Manually engraved T-marks on the upper. Will stay visible after any coating.
5. Hold tighter tolerance on the lugs for a better fit.
So, no matter which AR upper receiver you choose for your carbine or pistol, any of the above will provide you with a strong and reliable starting point for your new AR build. Regardless of what you choose, just know that we have you covered at Black Rifle Depot. We also understand that these sorts of topics can be confusing for a beginner. We hope this blog helps, but if not, please know we're here to help and walk you through your purchase.
Recent Posts
The future of the AR-15The AR-15, born from the innovative mind of Eugene Stoner in the late 1950s, …

Is the AR-15 suitable for hunting?When it comes to hunting, traditional bolt-action rifles have ofte …

The AR-15 in the Context of Home DefenseThe topic of home defense is a contentious one, filled with …