Choosing the Correct AR 15 Upper Receiver For Your Needs:
In the world of firearms and shooting enthusiasts, the AR-15 platform has long reigned supreme as a versatile and customizable firearm. From plinking at the range to serious competition shooting, home defense, and even hunting, the AR-15 offers a wide range of applications. One of the critical elements that determine the performance and functionality of an AR-15 is the upper receiver. Whether you're building your rifle from scratch or looking to upgrade an existing one, selecting the suitable AR-15 upper receiver is a crucial decision.
But with so many options available in the market, each boasting unique features and specifications, making the correct choice can be a daunting task. This blog is here to help demystify the process, providing you with the knowledge and guidance to decide when choosing the perfect AR-15 upper receiver to suit your needs.
In this comprehensive guide, we'll break down the essential factors to consider, the different types of upper receivers available, and how your choice can impact your shooting experience. Whether you're a seasoned AR-15 aficionado or just beginning your journey into the world of firearms, we've got you covered. Let's dive into the world of AR-15 upper receivers and equip you with the knowledge to make the right choice for your specific needs.

Anderson Manufacturing:
Regarding economical yet dependable upper receivers, the Anderson Manufacturing stripped upper receiver stands out as a top choice in my book. What's truly remarkable is that despite its affordability, this upper receiver consistently delivers a quality that has continually impressed me. However, it's essential to acknowledge that the lower price tag can sometimes lead to unexpected consequences – like impulsively embarking on multiple AR builds simply because you're saving so much money.
Nevertheless, what sets the Anderson stripped upper receiver apart is its unwavering reliability. In my experience, I've never encountered a single issue with an Anderson upper, nor have I met a build where it didn't seamlessly integrate with all the components I threw into it. Moreover, it pairs snugly with various lower receivers, ensuring a secure and consistent fit.
In summary, the Anderson Manufacturing stripped upper receiver has consistently demonstrated exceptional functionality across numerous builds. When you weigh its cost-effectiveness against its quality, it's undeniably a compelling option worth considering. To delve into the specifics, these upper receivers are forged from Cerro Forge 7075-T6 aluminum, and each one features M-4 feed ramps and type III hard coat anodization in black for corrosion resistance. The top section boasts a Picatinny rail system, ensuring compatibility with various accessories.
However, it's worth noting that one feature this budget-friendly AR upper receiver lacks is T-marks. If T-marks are an essential feature for you, it is worthwhile to explore our next option, especially if you have more budget flexibility for your build.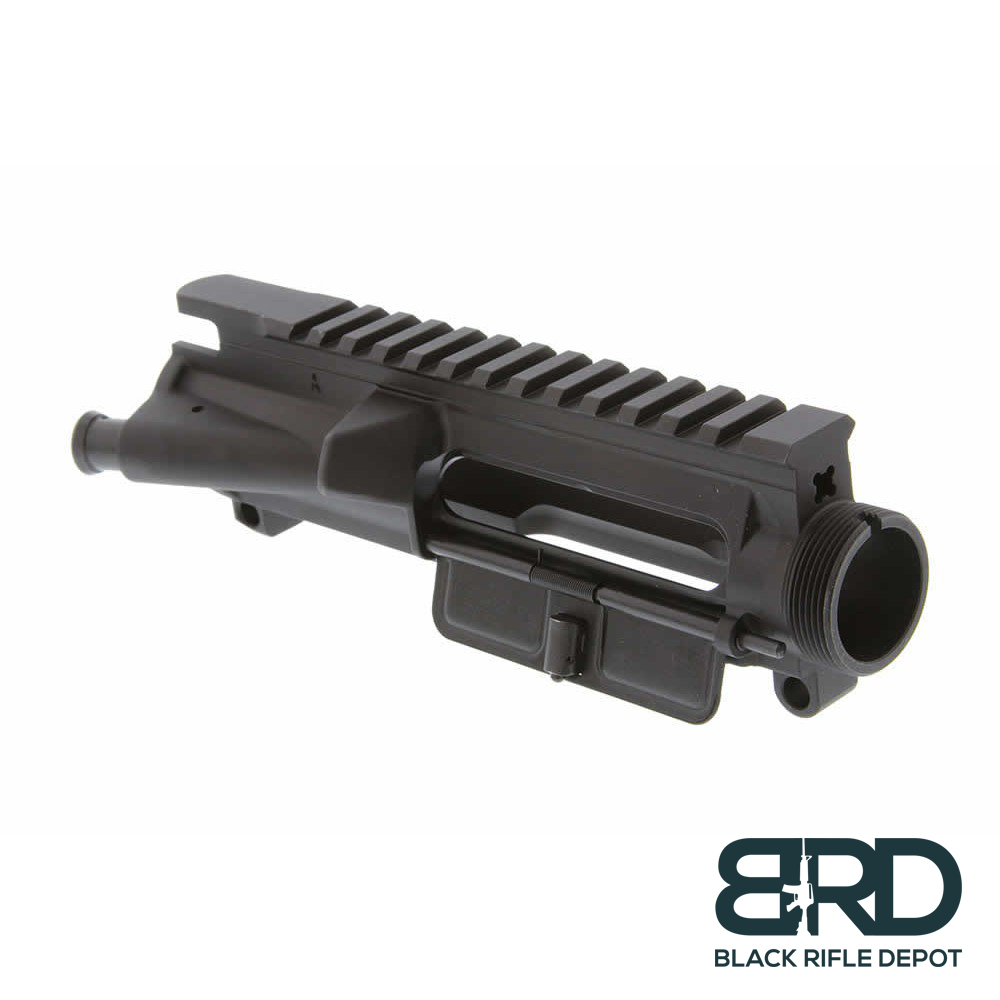 Aero Precision:
When it comes to finding the perfect balance between affordability and features, the Aero Precision upper receiver is a top choice for many builders. It's not uncommon to see even expert-level builders who swear by this AR upper receiver. If you're searching for the sweet spot where quality and value converge, you'll find a compelling argument that the Aero Precision upper receiver is as good as it gets.
One of the standout features of the Aero Precision upper receiver is the convenience it offers during your build. Unlike some other options, this upper receiver arrives with the port door and forward assist already factory-installed. What's particularly noteworthy is that you're not paying extra for this time-saving feature, making it an even more attractive option.
Furthermore, the Aero Precision Assembled Upper Receiver carries a universally recognized reputation for reliability. Its precision fit ensures zero play when paired with lowers from various manufacturers, ensuring a snug and secure fit.
Beyond its functionality, the Aero Precision upper receiver boasts an appealing aesthetic, featuring a dark and uniform finish that adds a touch of sophistication to your build. This receiver is especially advantageous if you plan to use Aero parts for the remainder of your build, a preference that many newcomers find comforting as they embark on their first AR build.
For those interested in the technical details, the Aero Precision upper receiver is meticulously crafted from a 7075-T6 aluminum forging machined to mil-spec standards, complete with M4 feed ramps. To ensure durability, it undergoes Type III Class 2 hard coat anodization and is laser engraved for identification. Whether you're a seasoned builder or a newcomer to the AR platform, the Aero Precision upper receiver offers a compelling blend of quality and value that's hard to beat with T-marks.
Faxon Firearms Forged Upper Receiver
The final upper receiver I'd like to highlight is from Faxon Firearms. You're paying more for this, so it's not necessarily for everyone. However, if you're looking for a super high-quality upper receiver with a gorgeous Type III Hard Coat Anodizing finish, this is the upper receiver to go with.
It's also an ideal upper receiver to Cerakote your finished product. The reason why is the T-marks on this upper receiver are truly engraved versus being laser engraved. Too often, builders with Cerakoted laser engraved uppers find their engravings don't look ideal after the Cerakote has been applied. This will not be the case with the engraved Faxon upper receiver. The engravings here are pronounced enough that they are visible after your Cerakote treatment is complete. It's a small thing, but it's worth knowing about before you send your build in for its new finish.
With the upper receiver, for the price, you're also getting a dust cover and forward assist as a part of the package. Do keep in mind, however, that they are not installed on the upper receiver.
As for the full range of benefits, this upper receiver offers via Faxon:
1. The upper receiver is trued (blueprinted) by Faxon at the factory.
2. We hone the inside bore to smooth out the action of the bolt carrier group.
3. Hollow out the shell deflector to reduce weight and look great.
4. Manually engraved T-marks on the upper. It will stay visible after any coating.
5. Hold tighter tolerance on the lugs for a better fit.
Your Ideal AR-15 Upper Receiver Awaits
Your Ideal AR-15 Upper Receiver Awaits, and when it comes to making the right choice, you have a trio of excellent options: Aero Precision, Anderson Manufacturing, and Faxon Firearms. Each manufacturer offers top-quality upper receivers, catering to various preferences and budgets.
Aero Precision is the go-to choice for those seeking a harmonious blend of quality and affordability. It's a brand trusted by many experienced builders, known for its precision fit and convenient features like factory-installed port doors and forward assists. Whether you're a newcomer or a seasoned enthusiast, Aero Precision won't disappoint.
Anderson Manufacturing, on the other hand, presents an incredibly budget-friendly option without compromising on reliability. Builders appreciate its consistent performance across numerous builds, making it a solid choice for those looking to maximize their value.
For those who demand the utmost in craftsmanship and aesthetics, Faxon Firearms offers an upper receiver with a gorgeous Type III Hard Coat Anodizing finish. Its engraved T-marks retain clarity even after Cerakote treatments, ensuring your build looks impeccable. While it comes at a higher price, the quality is undeniable.
No matter which of these three outstanding options you choose, you can rest assured that you're on the right path to crafting the AR-15 of your dreams. The ideal upper receiver for your firearm adventure awaits, providing a foundation for reliability, functionality, and personalization.

Recent Posts
AR-15 Maintenance and Troubleshooting: The Ultimate Guide to Mastering Your RifleWelcome to the worl …

Are AR15s a good investment?In the diverse world of firearms, the AR-15 stands as a notable point of …

What parts wear out most on an AR-15?In the vast domain of firearms, specific names stand out, not j …