Active outdoorsmen today use various firearms, such as the bolt action rifle or shotgun, for their activities.
However, the AR Rifle can have advantages over other guns, proving to be better than the traditional bolt action or shotgun rifle.
Read on to find out the varied benefits of having, carrying, and using an AR Rifle over other types of rifles for anyone who is active outdoors.
About the AR Rifle
The most common AR Rifle is the AR 15, one of the most popular firearms in the United States.
AR-15 stands for Armalite Rifle Model 15 and has been around since the 1950s, ultimately making its name known in the 1960s.
However, the AR Rifle may not be the first firearm that comes to mind when hunting or participating in outdoor activities. Still, there are advantages, such as its versatility and accessories, compared to other guns.
Other AR Rifle variations can either be heavier or lighter, depending on the activities. For instance, hunting big game may require a larger cartridge than the traditional 5.56x45mm the AR 15 uses. The AR 10 can take on a larger game, as it's compatible with 338 Federal, 308 Winchester, 6.5 Creedmoor, and 243 Winchester.
Various gun manufacturers produce "AR-style" rifles to compete, offering more variations for different scenarios, such as deer or hog hunting. Other AR-Style Rifles tend to be more pricey, as AR 15's can come with a build kit and other accessories to customize for the active outdoorsman.
Some examples of an AR-style firearm from other manufacturers include:
●Savage Arms MSR 10 Long Range
●Ruger AR-556 Bushmaster Model 8522
●DPMS Prairie Panther
●Daniel Defense M4
●LaRue PredatAR
●Smith & Wesson M&P
About the Bolt Action Rifle
The bolt action rifle is the most common firearm for the active outdoorsman, especially when it comes to hunting. With various guns providing large cartridges for both small and large game, the bolt action rifle has become a standard for the outdoors.
The bolt action rifle is a classic and has been around for almost 200 years.
Most common bolt action rifle manufacturers include Remington, Winchester, Ruger American, Weatherby, and Savage Arms. Remington and Winchester are amongst the oldest American manufacturers and are still in the lead for the outdoors.
One of the most revered outdoorsmen in American history, Theodore Roosevelt, owned a Winchester 1876 as his first rifle, with Winchester becoming his favorite brand of gun.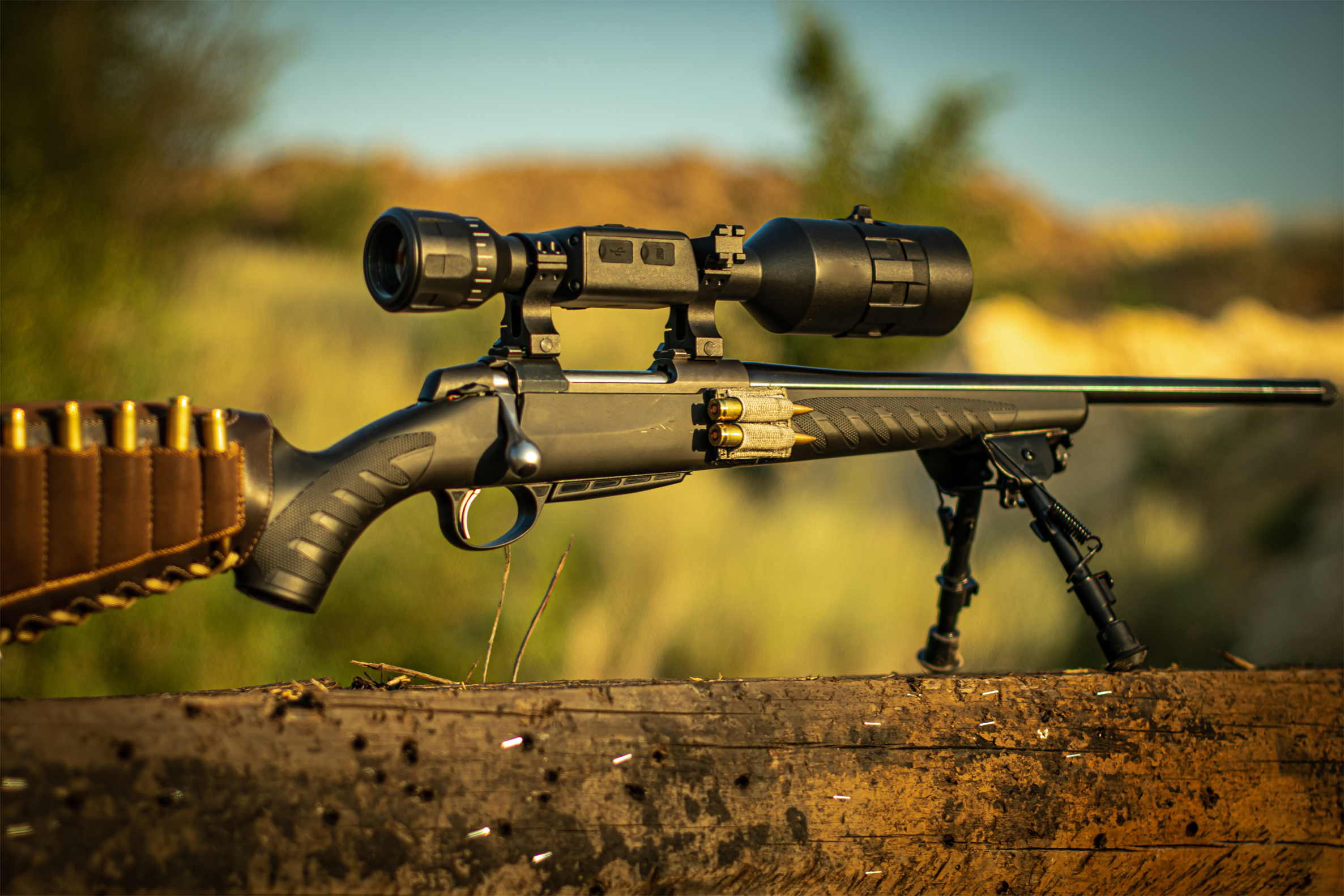 Today's popular bolt action rifles include:
●Remington 700 or 783
●Savage Axis II XP
●Ruger American Rifle or Ruger American Ranch Rifle
●Winchester XPR
●Weatherby Vanguard
These firearms, including others on the market, can use calibers such as 270 Winchester, 308 Winchester, 6.5 Creedmoor, and 300 Win mag, which are enough to take down deer and larger animals.
Other guns from different manufacturers include:
●Mossberg Patriot
●Tikka T3x
●Browning X-Bolt
About the Shotgun
Shotguns are another popular firearm for the active outdoorsman, as it can hunt both fowl and deer, although some shotguns may not be able to take down larger game. However, shotguns tend to be more lightweight than other rifles, making them attractive to those who hunt birds, rabbits, or other small and quick vermin.
Also, shotguns disburse pellets, making them lethal at close range and easier to get smaller animals such as quails, squirrels, ducks, and pheasants.
The shotgun shells come in different sizes, such as:
●10 gauge; .780 inches in diameter
●12 gauge; .727 inches in diameter
●16 gauge; .670 inches in diameter
●20 gauge; .617 inches in diameter
●28 gauge; .550 inches in diameter
●410 gauge; .410 inches in diameter
The most common shotgun is the 12 gauge for the outdoors, as it's a decent weight and gauge size.
The three shells are categorized as birdshot, buckshot, and slugs. Other shells are available, but active outdoorsmen concentrate on these 3 when hunting.
Slugs are the most powerful and can take down even a bear, with buckshot taking down deer and birdshot taking down fowl, as the names suggest.
Popular manufacturers for shotguns are similar to bolt action rifles, as Remington and Winchester are among the top two, with Weatherby, Benelli Nova, and Beretta coming close.
Common shotguns for the outdoors today include:
●Remington 870
●Winchester SXP
●Winchester Model 12
●Beretta A3000 Outlander
●Benelli Ethos
●Benelli Super Black Eagle 3
AR Rifle vs. Bolt Action Rifle
Benefits of having an AR Rifle over a bolt action rifle for the active outdoorsman include:
●Faster follow up shots: With an AR Rifle, such as the AR-15, semi-automation without a lever allows for quicker follow up shots, which is crucial when dealing with swift animals. Bolt action requires manually putting a new round in the chamber, while with an AR Rifle, you pull the trigger and a new round automatically fills the chamber.
●Higher capacity: Bolt action rifles tend to have 2 to 10 rounds each capacity, with about 5 or 6 rounds as the average. An AR Rifle can hold up to 20 to 30 rounds, roughly 3 to 5 times more than a bolt action, providing more chances to take down prey.
●Versatility: An AR Rifle can transform to become lighter and similar to a bolt action, reducing its capacity and weight. Smaller capacity rounds are available for the AR Rifle, such as 5 or 10, if an outdoorsman wants a lighter rifle.
●Build: Traditional bolt action rifles have wood stocks, which isn't ideal in wet weather, as the wood can warp. The AR Rifle tends to come in plastic or carbon fiber, which is more lightweight and can build some waterproof capabilities, helpful in moist conditions.
AR Rifle vs. Shotgun
Benefits of having an AR Rifle over a shotgun for the active outdoorsman include:
●Precision: The pattern for shotguns tend to be sporadic, which do have advantages, but the AR Rifle provides more precision with one shot.
●Recoil: Shotguns tend to be pump-action, taking a second or two longer to put a round in the chamber before ejection. When actively hunting, this is a disadvantage as the prey can quickly flee the scene. The AR Rifle is ready to launch 20 to 30 rounds, one at a time, with the pull of the trigger.
●Rounds: Shotguns have slightly more capacity than a bolt action, holding an average of 8 rounds, with some firearms ranging from 5 to 11 rounds. AR Rifles can hold twice as many rounds compared to shotguns.
●Customizable: While shotguns do come with various optics, they add little advantages, as the rounds are still more sporadic than the AR Rifle's .223 or 5.56. AR Rifle's optics may add more accuracy, which is not guaranteed with shotguns.
●Long-range: Shotguns are best in a short-range, at about 50 yards. However, the AR Rifle can shoot as far as 200 yards, possibly more.
●Powerful: Shotguns are powerful up close, but an AR Rifle's power is felt both short-range and long-range.
●Hunting: With shotguns, it's common to use them against smaller animals or birds. Individual shells like slugs or buckshot can take down a deer, but an AR Rifle can take down most animals without deciding between different gauges.
The Verdict
The AR Rifle, such as the AR-15, is one of the fastest-growing firearms for the outdoors.
It's more than a trend, as the AR-15 and other AR Rifles are robust yet adaptable to any environment and any game hunting. Whether it's the mountains out West or flat swamplands in the South, the AR Rifle is suitable for hiking, camping, and hunting.
Overall, the AR Rifle has its benefits for today's active outdoorsman, with advantages such as more capacity, accessories, versatility, and the ability to handle any prey, no matter the size.
Recent Posts
Is the AR-15 suitable for hunting?When it comes to hunting, traditional bolt-action rifles have ofte …

The AR-15 in the Context of Home DefenseThe topic of home defense is a contentious one, filled with …

Enhancing Your AR-15: The Ultimate Guide to Accessories & UpgradesRegarding the world of firearm …