Find Glock Perfection
With Glock Parts and Glock Parts Kits
When Gaston Glock first debuted the 9 x 9mm Glock 17 in the early 1980s, it seems impossible he could have imagined the impact it would have on the world of firearms. It also seems unlikely that he could have foreseen the number of modifications and accessories that are now available for the pistol that holds his name.
While Black Rifle Depot has long focused on the AR 15 Parts, there's no denying that the Glock is the "AR-15 of pistols" when it comes to its ability to be customized to suit a wide variety of needs.
That said, with any item you can modify, it can be easy to go overboard with modifications. The best approach is to go hands-on with your Glock and determine which changes would actually be of some use to you.
It's no different than if you were building an AR. You want to choose Glock parts that allow you to do practical and straightforward upgrades with the goal of making a better performing and more consistent pistol.
A Note on Generations
Do note that over the decades, Glock has released several "generations" of their handgun. On many of the descriptions below, you will see it say something like Gen. 5, or Gen. 1-3. You'll want to pay very close attention to any parts you add to your cart to ensure that they match up with the specific version of the handgun that you own.
Updating Your Glock Parts
Replacing Your Factory Sights
If we was staring at a new Glock 17 or 19 fresh out of the box, the very first thing we would do would be to replace the factory sights that come pre-installed on the pistol. While these factory sights are fine in a pinch, and many do not feel the need to replace, others think the plastic stock sights are placed there as placeholders.
At Black Rifle Depot, we tend to agree with this, and recommend that the first updated Glock part you seek out is a pair of replacement sights.
Frankly, if you are only going to do one modification to your Glock, make it the sights. Black Rifle Depot currently offers a wide variety of Glock sights…research which one is right for you and dive into the world of Glock modification.
Glock OEM Night Sights For Glock 17/19 - OEM

If you did not choose the factory night sight options when you first purchased your Glock, a simple fix is to buy their OEM night sights. They are equipped with contrasting tritium inserts
enabling simple, accurate and quick target alignment in all light conditions. These sights are also available for the Glock 42/43.
Features:
Front fits all models
Rear size 6.5mm
Fits all models except G42/G43
Standard height on G17" G19" G22" G23" G26" G27" G33" G34" G35" G37" G38" G39 (Including Gen4).
Strike Industries Modular Blade Sights for Glock
Strike Industries have a unique approach to bring additional value to you. With the easily interchangeable sight inserts, you can tailor the sight to what best suits your shooting style.
The core of their solution lies in the interchangeable front sight blade. Traditional dot sights have a potential for vertical misalignment, requiring the user to index twice, once to center the dot, and confirm again that the black top is aligned with the rear sight. By moving the sighting element drop-into the top, this second step is mitigated
Additionally, their optical inserts gather more light and are much more robust than simple fiber optic light pipes. Opaque inserts are available as well for brightly lit conditions where a fiber optic may be too distracting.
The rear sight is tapered to offer the best compromise between narrow and wide rear sight notches. Narrow notches help with accuracy but can be slower to align and obscure more of the target. Wider rear notches tend to be faster and offer greater visibility, however the margin for error in a misaligned sight picture is increased. With a narrow base for finer alignment and a more generous top, allows the shooter to have the advantages of both. Additionally, the Index Ramp on the rear sight offers a way to quickly confirm proper sight alignment and can be marked for greater visibility.
RIVAL ARMS Glock 17/19 Tritium Night Sight - Standard Height
To consider a gun to be great, it must be reliable day and night. Providing a consistent green glow, our tritium night sights ensure accuracy in low light and even complete darkness. In daylight, a large white dot and rounded notch design increase speed and accuracy. These sights are also available for the Glock 42/43.
This pair of Tritium night sights features:
Front/rear set
Stainless steel
Green tritium with white outline front
Green tritium rear
Replacing Factory Trigger and other Lower Parts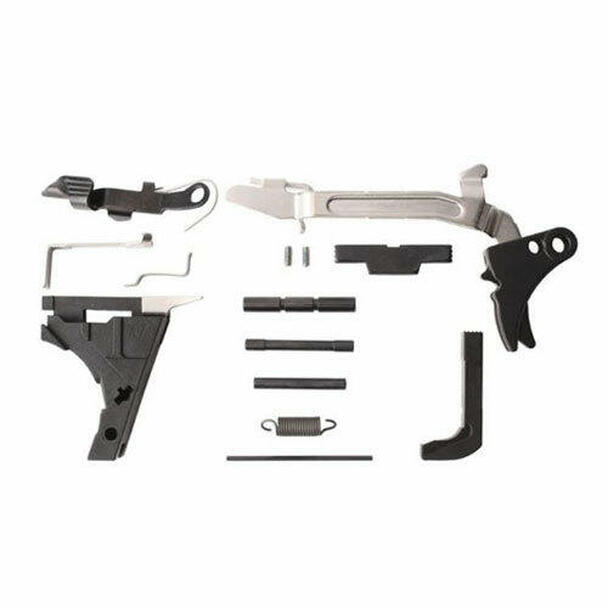 A common complaint about the Glock has always been that its trigger could be more refined. In our decades-long
journey with Glocks, one of the first and best modifications you can do begins with investing in a Glock Parts Kit like the ones sold here at Black Rifle Depot.
Many find that by having a more crisp and clean trigger, they have better control over the trigger. It's a great, simple way to improve the feel of your Glock. Along with the trigger, another thing that can make a big difference in the feel of the trigger is an upgrade to the factory connector. An improved trigger spring can also help with reset.
If making these changes sounds like something you want to tackle, but you don't know where to start, our Black Rifle Depot Glock Lower Parts Kit comes with an upgraded Adjustable Billet Aluminum Trigger and safety bar with 5.5 lb trigger pull.
The kit includes:
Adjustable Billet Aluminum Trigger w/ Bar
Trigger Housing
Trigger Spring
5.5lb Trigger Connector
Trigger Pin
Trigger Housing Pin
Locking Block Pin
Slide Lock & Spring
Magazine Catch & Spring
Factory Slide Stop Lever
2 Trigger Adjustment Allen Screws And Wrench
If you just want a trigger, then one well worth considering is the ZEV Technologies Pro Curved Trigger Bar Kit For Gen 5 Glocks
Any article about upgrades for Glocks is incomplete without mentioning the influence that ZEV has had over the past few years. It is not an exaggeration to say that ZEV created the market for GLOCK trigger upgrades. Over the years, ZEV triggers have won more world championships and are in the hands of more professionals than all other after-market triggers, combined.
At the core of their PRO trigger is ZEV's new proprietary trigger bar and professional connector. These products deliver the crispest, cleanest trigger pull available. Finally, their trigger pad features a revolutionary riveted assembly process that makes it the longest lasting and most reliable replacement trigger on the market.
Features:
ZEV PRO curved face riveted trigger
ZEV PRO connector
Compatible with: Gen:5
Models:
G26, G19, G17, G34, G19X
If you're going to be using your Gen 1 through Gen 3 Glock for competition, then there is another trigger that is well worth considering - the ZEV Technologies Fulcrum Trigger Bar Kit for Gen 1-3 Glocks.
The ZEV Technologies Fulcrum Adjustable Trigger is the premier Glock trigger kit for competitive shooters seeking to attain the ultimate performance from their pistol. The Fulcrum trigger features adjustment screws built into the trigger pad for fine-tuning the pre-travel and over-travel of the trigger for personal preference. Trigger pull weight is determined by the trigger spring, firing pin safety spring, and striker spring and is not affected by the pre-travel and over-travel adjustments of the trigger pad.
Features:
Polished Steel Trigger Bar
ZEV Trigger Pad (Black): 6061 Aircraft Grade T6 Aluminum Hard Anodized Type III
ZEV Trigger Safety (Black): 6061 Aircraft Grade T6 Aluminum Hard Anodized Type III
ZEV Trigger Safety Spring
Upgrading Your Glock Parts
Magwell Enhancements
For some shooters looking to increase the speed of their reloads, an accessory they turn to is an aftermarket magwell. Black Rifle Depot carries several different magwells to meet your individual needs, including products from Taran Tactical, a name you may know from the John Wick film franchise.
Taran Tactical - Carry Aluminum Magwell - G17/22 Gen 5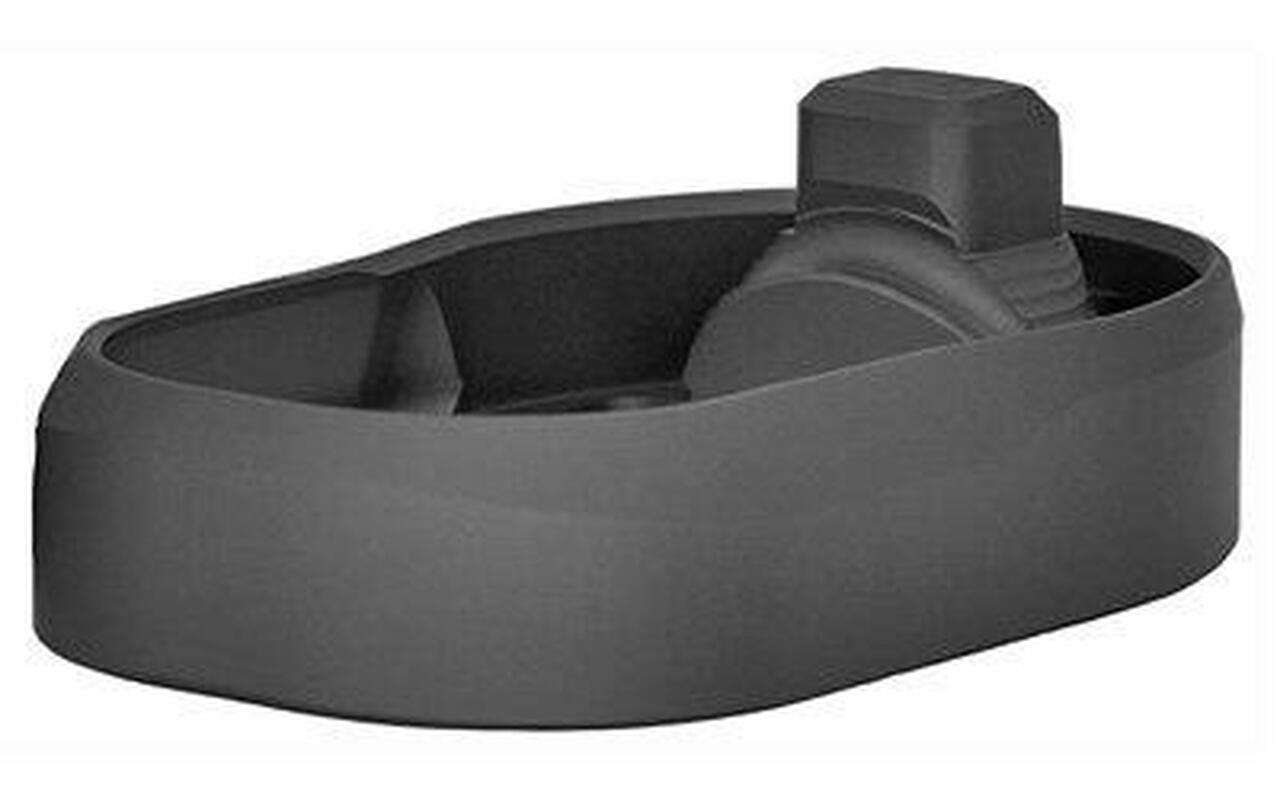 Designed with concealed carry and duty use in mind, the Taran Tactical Innovations Carry Magazine Well for Gen 3/4 Full Sized Glocks in 9mm, 40 S&W, and 357 Sig provides the
ultimate in reloading performance for Glock pistols. CNC'd from high-quality billet aluminum right here in America, our one-piece streamlined design is unobtrusive and fast. Our carry magwell provides the largest bevel while retaining a small overall footprint.
Aluminum construction
The one-piece design removes the hassle of losing parts
Set screw increases the comfort of retention (Extra-Long Extended Point Set Screw, Alloy Steel, 10-32 Thread, 3/8" Long)
Small Overall Footprint
Weighs .9 oz
Maximum funnel increases the speed of reloads
Underside cuts allow for retention and functionality with all current TTI Base Pads
Taran Tactical - Competition Lightning Magwell - G17 Gen 5
Taran Tactical Innovations Lightning Magazine Well for Gen 5 Glock provides the ultimate in reloading performance for your Glock pistol. CNCd from high-quality billet aluminum right here in America, our one-piece set screw design offers premium performance without the irritation of a two-piece design. Forward ergonomic relief cuts provide comfort, while a massive underside funnel increases the speed and success of quick reloads. 1.7 ounces of high-quality Aluminum provides much-needed weight for balance to your Glock.
Aluminum 1.7oz of high-quality craftsmanship to provide weight and help improve your reloads
One-piece design removes the hassle of losing parts
Set screw increases the comfort of retention (Extra-Long Extended Point Set Screw, Alloy Steel, 10-32 Thread, 3/8" Long)
Massive funnel increases the accuracy of reloads
Fits the IPSC box
Underside cuts allow for retention and functionality with all current base pad extensions
ZEV Technologies - PRO Plus Magwell - Standard Small Frame Glocks - Gen 1-4
The ZEV Pro Plus offers a smooth anodized finish one-piece design. We like the low profile on this design, which still provides the desired flared base that will make your Glock's reloads easier. Black Rifle Depot also offers this model for Gen 5 Glocks.
Updating Glock Parts - Upgrading your Glock Slide
When we earlier compared the Glock pistol to the AR platform as far as its ability to swap out and replace parts, we were not exaggerating. An excellent example of this is the ability of an
end-user to replace a part as prominent as the Glock slide itself, as well as many of the small parts and components that make up the slide.
If this level of tinkering sounds interesting to you, there's no better place to start than the Rival Arms Glock Slide Completion Kit For Glock 9MM Gen3/Gen4. There's no gunsmithing required, and each part has been individually hand inspected for accuracy.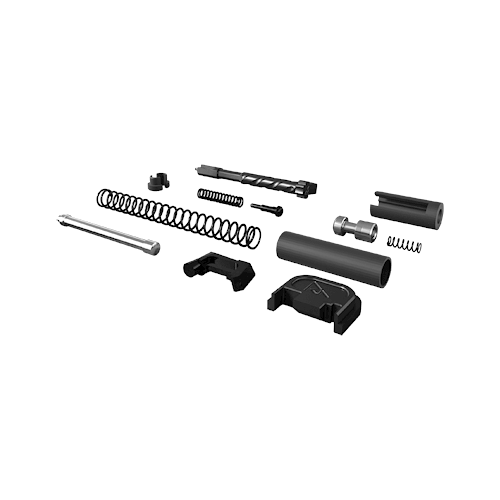 This kit Includes: Striker (Firing Pin) Spring, Extractor, Striker (Firing Pin) Safety Spring, Back Cover Plate, Extractor Depressor Plunger, RA Precision Striker (Firing Pin), Striker (Firing Pin) Spacer Sleeve, Depressor Plunger Spring, Striker (Firing Pin) Safety, Spring Loaded Bearing, Striker (Firing Pin) Spring Cups and Slide Channel Liner
As far as what the Rival Arms Glock Slide Kit can offer you, it provides:
Tighter tolerances than factory
Low-temperature vacuum PVD (Physical Vapor Deposition) coating, on select parts, creates a durable barrier against wear and tear
Select parts CNC-machined from solid stainless steel billet
Limited lifetime warranty
As far as upgrading the entire slide, this is something that many Glock owners opt to do for reasons including weight reduction, adding an optic, or simply for flash and looks. Speaking of flash and looks, at the high end of the spectrum, we again return to ZEV.
In addition to triggers, ZEV is known for its slides. Black Rifle Depot proudly carries some of their most exceptional work to date in the form of both their Omen and Orion slides for Gen 4 Glock 19s.
ZEV Technologies stainless steel slides are designed to improve accuracy and performance. They are manufactured in ZEV's state-of-the-art manufacturing facility from a single billet of 17-4 stainless steel to tighter tolerances than factory slides for increased consistancy in barrel lockup, which improves accuracy.
All ZEV slides have a patented optic cut that features posts allowing for more thread area keeping your optic securely mounted to your slide. ZEV slides also weigh less than factory slides, therefore reduce reciprocating weight, which reduces fatigue and allows for faster shot follow-up placement.
Rival Arms - Match Grade Upgrade Slide

Another option worth considering if you're planning on replacing your slide is Rival Arms - Match Grade Upgrade Slide. Black Rifle Depot carries these for a variety of different models. Including the Glock 17 & 19 Gen 4 and the Glock 43. Each feature:
CNC Machining
17-4PH Stainless Steel
Recessed Slide Cuts for Compatibility with RMR
Black Nitride Slide For Glock 19
For a slightly less radical and costly approach, you should also consider Black Rifle Depot's Black Nitride Slide For Glock 19
These slides are precision machined from stainless steel with a drop-in fit. They are jet black with a QpQ nitride finish. The slide features serrations in both the back as well as the front for easier operation. Compatible with all (OEM) Glock* parts as well as Polymer80.
Material - Stainless Steel
Finish - QpQ Black Nitride
Model - Glock 19
Updating Your Glock Parts
Truth be told there, for most folks, there is probably very little "need" for an upgraded Glock barrel. The existing barrel you have in your Glock should last you a long, long time an give you excellent performance. We've heard multiple stories of Glocks with hundreds of thousands of rounds on them still shooting true and functioning as expected.
That said, should you need a replacement barrel for your Glock pistol, or if you want to chase better accuracy with a match barrel, Black Rifle Depot has you covered.
Rival Arms Match Grade Drop-In Barrel For Gen 3-4 Glock 17,19
It's no secret that the key to high accuracy is proper training. After that, it often comes down to a match-grade barrel. Built from high-quality stainless steel that has been precision polished and treated with premium coatings, these barrels rival custom work and deliver the best in accuracy and performance" round after round.
Features:
1:10 Twist
CNC machined from 416R stainless steel
PVD coating
Target crowned muzzle
Boron nitride inner bore treatment
We also have a pair of high-quality barrels for the Glock 43. We are proud to feature offerings from both Grey Ghost Precision and Agency Arms.
Grey Ghost Precision - Match Grade Barrel 9MM - Glock 43
Our drop-in match grade barrel made by Grey Ghost Precision is 416R stainless steel, and features SAAMI spec. 9MM match chamber and a 1:10 twist rate
Agency Arms - Mid Line Barrel 9MM - Glock 43
Agency Arms Mid Line Barrels are for those who desire functionality as well as a unique appearance. While each of their lines maintains the same core accuracy and reliability, Agency's Mid Line focuses on additional machining enhancements and appearance while only a having modest price increase over the Standard Line models.
Twist: 1/10
416R Stainless Steel
Pulled broached/SAAMI spec. 9mm rifling
Moving away from match barrels, we also offer both Glock OEM barrels, as well as a more standard replacement barrel.
Black Rifle Depot Black Nitride Barrel For Glock 17, 19
Glock 17 9mm
QpQ Nitride Treated
Drop-in fit for Gen 1-4
4150 CMV
1:16 TWIST
Fully supported chamber and improved feed ramp design
Target crown and oversized lock up area
Conventional rifling with a polished chamber and bore to perform well with lead, plated and jacketed bullets
Glock Parts and Glock Parts Kits - Let Black Rifle Depot Help
So, if you're looking for the highest quality Glock parts kit for your pistol, we have you covered at Black Rifle Depot. No matter which Glock parts you choose, you can be confident that you'll be choosing a high quality kit that will serve you and your pistol well. If you have any further questions about what is are the best Glock parts for your specific needs, please do not hesitate to call or email. We'd be happy to walk you through the basics and send you well on your way.
Recent Posts
Is the AR-15 suitable for hunting?When it comes to hunting, traditional bolt-action rifles have ofte …

The AR-15 in the Context of Home DefenseThe topic of home defense is a contentious one, filled with …

Enhancing Your AR-15: The Ultimate Guide to Accessories & UpgradesRegarding the world of firearm …