This is a blog; it isn't legal advice. But it is generally legal to buy any and all parts, pieces, or components of an AR 15 with only a few exceptions. Those include ammunition, silencers, and lower receivers. According to the Bureau of Alcohol, Tobacco, Firearms and Explosives (BATFE) there is only one part of the AR 15 that requires a Federal Firearms License (FFL) transfer at the time of purchase and it's the serialized lower receiver. This refers to the serialization designated to a finished lower by the manufacturer prior to its sale. All the other standard parts required to assemble an AR 15 are legal to buy, trade, or sell in the United States at the time of this article.
Can You Buy Parts to Build an AR 15?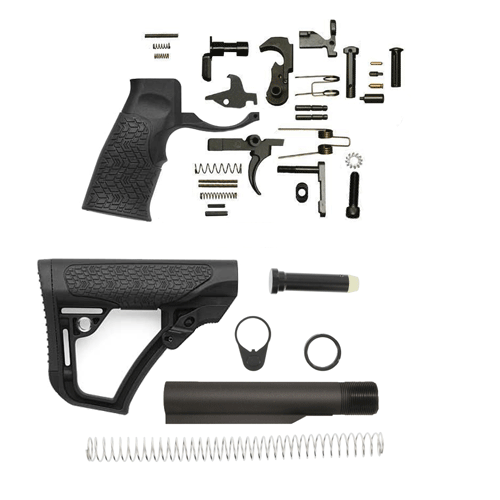 Yes, you can buy all the parts you need to build an AR 15 from anyone, with one exception, the Lower Receiver. It must be purchased as stated before from a licensed FFL Dealer. Almost all the other components needed to assemble or customize your AR 15 rifle can be legally purchased online and shipped directly to you.
Is it Illegal to Own Gun Parts?
This is a loaded question (excuse the pun) there are parts of a gun that are considered illegal. For instance, it is not legal to own a silencer in most states. There are laws, rules, and limitations for other parts of a gun as well. But generally speaking, it is not against the law to own separate unassembled gun parts. Unless the part is illegal, in which case assembled or not it is illegal.
Is it Legal to Make Your Own AR 15?
It is not illegal for any lawful citizen to make their own AR 15 style gun as long as certain rules are followed and adhered to. However, States are becoming more vigilant against possession of non-serialized weapons. Therefore, check your local regulations before assembling any such weapon. However, it is becoming a popular hobby for enthusiasts to assemble their own custom AR 15 after purchasing a registered AR 15 Lower Receiver from an FFL dealer.
What Part of AR 15 is Regulated?
The part of a standard AR 15 that is regulated is the Lower Receiver. There are also other considerations such as barrel length, muzzle fixtures, placement and type of grips, foregrips, and magazine capacity are also important.
You need to check federal, regional, and local laws, regulations, and rules governing AR 15 rifles, and pistols. The improper placement of a foregrip could completely change your otherwise legal AR 15 pistol into a different classification of weapon - for instance an AOW "all other weapons" making it illegal.
Do I Need an FFL to Buy AR 15 Parts?
You need an FFL to purchase or transfer any AR 15 Lower receiver, including a stripped lower receiver. But you do not need to use an FFL to buy AR 15 parts as long as none of the parts include the lower receiver. So, you can virtually purchase every single part for a legal AR 15 rifle excluding the lower receiver from any individual or company selling those parts.
Can I Sell an AR Lower?
Yes, so long as the purchase is legal and carried out through an FFL dealer. You may have to ship the lower to the dealer during the waiting period or background check is being completed. Plus, as you are not an FFL, you cannot sell a registered or unregistered AR 15 lower receiver to anyone else without using an FFL.
Are You Looking for AR 15 Parts?
If you want to shop for AR 15 parts online look no farther that Black Rifle Depot. We carry all the parts and accessories you need to customize your AR 15 and we ship them right to you. Our expanding selection of in-stock items, live-inventory, and five-star service makes shopping for AR 15 parts fun and our lifetime warranty makes it risk free. Check out our latest offerings here:
SHOP AR 15 PARTS AND ACCESSORIES

Recent Posts
16" 5.56 NATO Cold Hammer Forged Rifle Build KitThe 16" 5.56 NATO Cold Hammer Forged Rifle Build Ki …

BRD's 10.5" 5.56 NATO AR 15 Pistol KitThe 10.5" 5.56 NATO AR 15 Pistol Kit comes with everything ne …

What are AR 15 Magazines?A magazine is a storage device for bullets, either internally fixed (withi …