Magpul Industries is known for high-quality American-made products and accessories made from their blend of high-strength polymer. They have been producing affordable, lightweight options for operators, and their AR 15 Fore Grips lineup is no exception.
They make their fore grips from the same high-quality polymer as their other Magpul products to produce some of the best-loved fore grips on the market today. Magpul offers a short list of options in fore grips that cover the bases in use and styling. They offer their fore grip line in standard Magpul colors: Black, FDE, Stealth Gray, and OD Green.
They were sure to integrate different grip textures on the various models to ensure positive control in all environments. Their grips feel right in both an ungloved hand and a gloved one.
Magpul's fore grips, including the vertical grips, are designed and optimized for using the "thumb break method." For those unfamiliar with the thumb break method, the thumb stays on the same side of the weapon as the fingers, not wrapped around the grip in an opposing manner. This allows for a higher center of gravity, more control, and lessened recoil rise.
Magpul is Proudly Made in the USA
Every one of their products is proudly made in the United States by Americans, from American-sourced raw materials from American Suppliers. You really cannot get much more pro-American than Magpul Industries.
What Style is Magpul Fore Grip Best?
Magpul offers only a few options for their lineup of fore grips. You might think they need more options, but the truth is, more isn't always more. In this case, it is as accurate as ever. Regarding each shooter, there is only one best way for the shooter to control the weapon. That favorite method can be enhanced or hindered by adding a foregrip. Magpul knows this all too well and, as such, has engineered a few optimized foregrips to meet the industry's needs.
They offer a vertical, angled, and hand stop. That is realistically all that is needed to satisfy the need for gripping and controlling the front end of your weapon. Let's take a closer look at each and what the benefits and drawbacks of each are.
Magpul Industries Vertical Fore Grips
Their lineup of vertical fore grips again comes in the standard colors. They have three possible grips to choose from.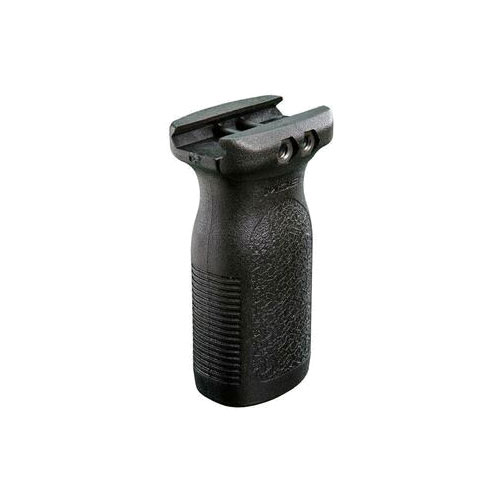 The RVG is a lightweight, cost-effective vertical fore grip that mounts to a Picatinny rail. This is a very easy-to-install and use foregrip. The benefit of this grip is that the mounting footprint is small and can be placed anywhere along the bottom of a handguard with a Picatinny rail. The drawback is it mounts so solid that it can become a formidable protrusion to attend to if stored in a bag. It is also not 50 states legal on any weapon with a barrel length under 16". So, be sure to check your local jurisdiction before mounting your gun.
The MVG-MOE: This is the gold standard of traditional fore grips. The iconic MVG is an essential, lightweight, affordable vertical fore grip that attaches directly to MOE hand guards. This means there is no need for extra rails. The shape is an ergonomic design that replaces a traditional vertical grip. This grip has also been optimized for use with the "thumb break method" of shooting. The potential drawback is that you must have a MOE handguard or fore-end to mount this grip.
The M-LOK MVG Is an inexpensive, lightweight vertical fore grip that attaches directly to M-LOK compatible fore-ends and handguards. While this grip is made from the same high-quality polymer as the other grips and comes in the same colors, it features the new Magpul TSP texture for added positive control in all conditions and environments. The possible drawback is that it must mount to M-LOK handguards or fore-ends, besides always being out of stock everywhere. So, could you check your equipment before buying? It, too, is optimized for thumb break handling.
Magpul Industries Angled Fore Grips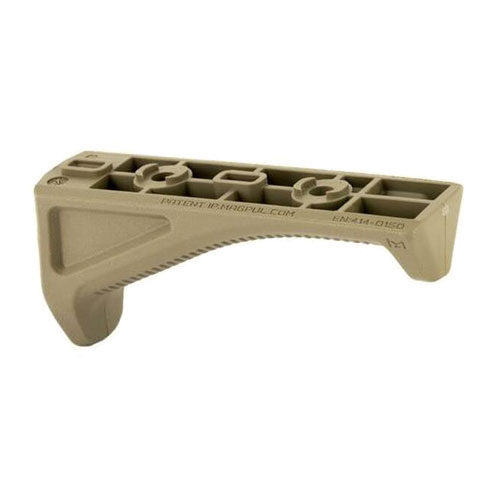 The AFG Is compatible with mounting on most M1913 Picatinny-railed hand guards. This grip was designed with natural body mechanics at the forefront of purpose. It provides a comfortable and stable control/contact point that reduces fatigue and allows for more precise weapon control. It does this by positioning the shooter's hand on the bore's centerline and allowing for faster, more accurate follow-up shots. This ergonomic hand placement also reduced felt recoil. Possible drawbacks include it being the largest and heaviest of the angled foregrips.
The AFG-2: This is shorter in length and narrower in width than the original AFG. This angled fore grip is also compatible with most M1913 Picatinny-railed handguards. The AFG-2, by keeping the hand and hold of the weapon at near centerline, helps mitigate felt recoil and aids in control of the weapon for faster, more accurate follow-up shots. The potential drawback is due to its smaller size and missing side wraps; it is best suited for a larger or gloved hand for optimal comfort.
The M-LOK AFG Is the direct result of research and continued refinements to the AFG and AFG-2. This is a high-strength ultra, lightweight fore grip. The engineers could maintain a similar gripping surface by adhering to a minimalist design profilebut create a smaller grip. It is .75" smaller than the already shorter AFG-2. The only drawback is that you must have an M-LOK handguard to utilize this angle's foregrip.
Magpul Industries Handstop
The M-LOK Hand Stop Kit: Okay, while this is technically not a foregrip, it serves much the same purpose, so we included it here for your convenience. It is a light weight, less intrusive weapon control point and forward stop. This is arguably the most versatile of the options, as it is configurable in multiple fashions. This style of fore gripping the weapon is closest to the centerline, ergonomic, and comfortable. It boasts TSP Texture for enhanced grip and comes in the standard choice of colors. The drawback is that you may need additional M-LOK Rail Type 2 Covers to complete the textured area you intend to hold.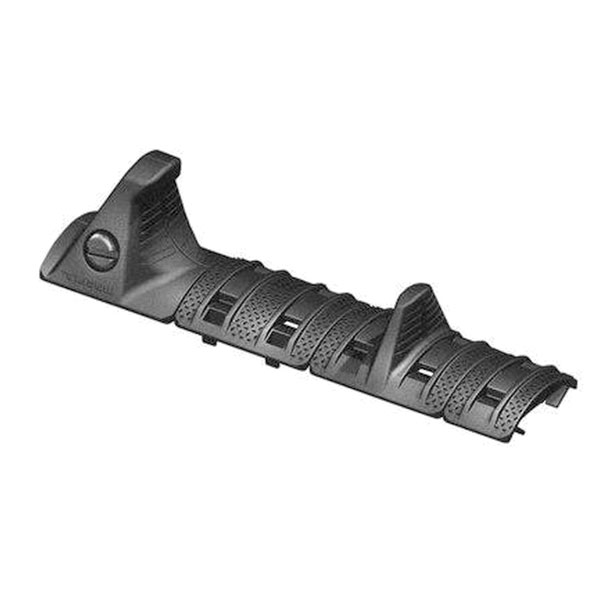 Recent Posts
Is the AR-15 suitable for hunting?When it comes to hunting, traditional bolt-action rifles have ofte …

The AR-15 in the Context of Home DefenseThe topic of home defense is a contentious one, filled with …

Enhancing Your AR-15: The Ultimate Guide to Accessories & UpgradesRegarding the world of firearm …