AR 15 Charging Handles
At first glance, an AR 15 charging handle looks like nothing more than a regular, rod-shaped object that doesn't have much significance. Truth be told, the charging handle is an essential component that serves a critical function. The charging handle cocks the hammer and moves the bolt into the ready position, giving you the ability to shoot.
The charging handle also ejects un-fired cartridges from the chamber and clears malfunctions. If you are having any problems with your charging handle, you are going to have some serious problems with your rifle.
Different Types of Charging Handles
The good thing about charging handles is that there are plenty of different AR 15 charging handles out on the market today that can give you a quick and easy upgrade to your gun and improve the performance. There are a few different features that you might want to consider when looking, such as:
Ambidextrous Charging Handles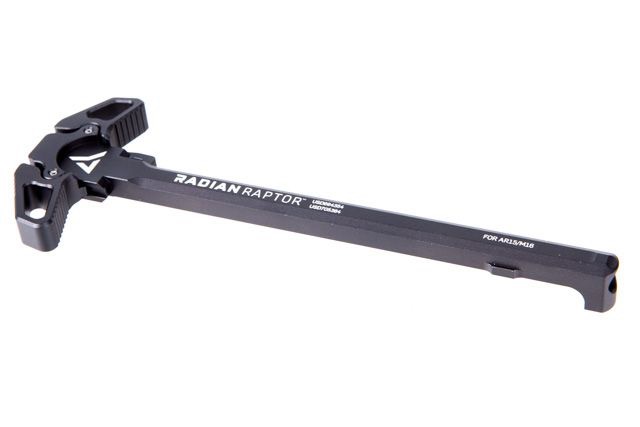 An ambidextrous version of a charging handle is often used for its ability in tactical situations. The biggest benefit it provides is being able to use with either hand, as the name implies. The larger surface area enables a shooter to have fast and easy access from either side, and can easily be used by either left and right handed shooters.
Extended AR Charging Handles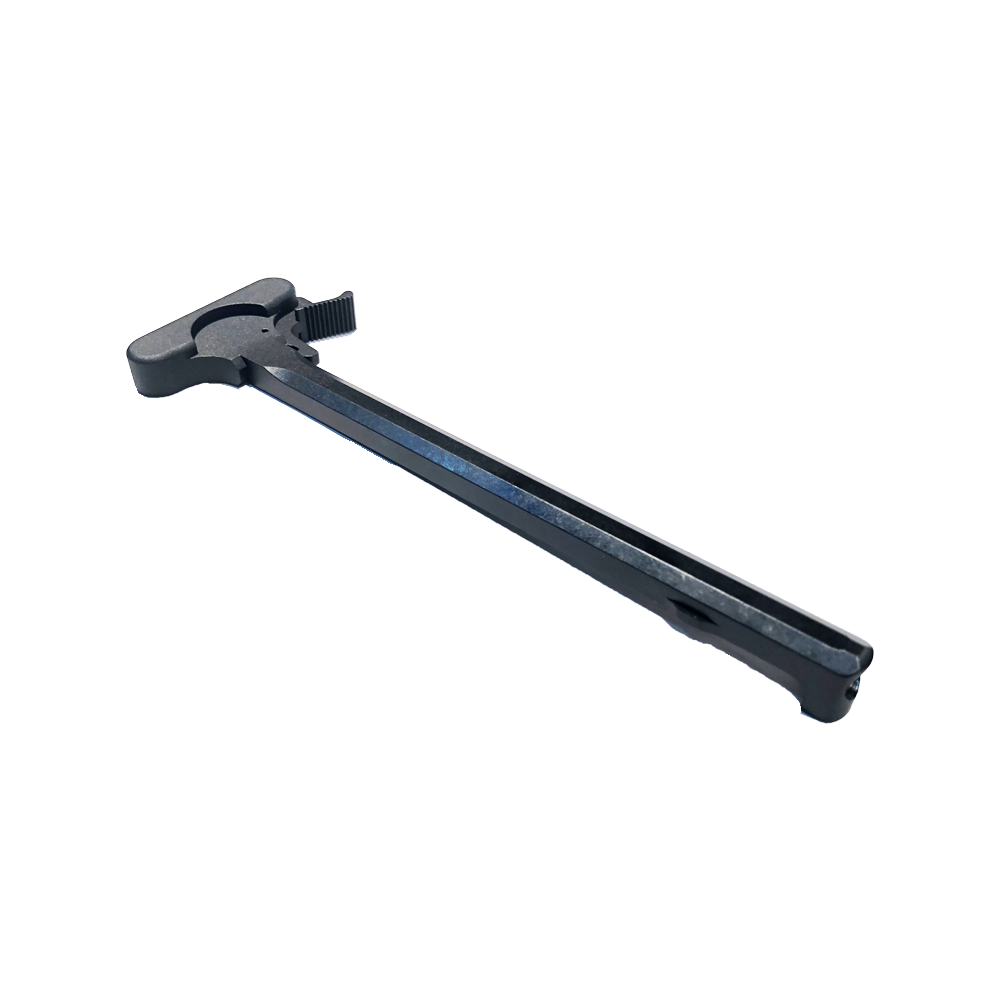 Extended charging handles employ an enlarged (or extended) latch. This makes it much easier for a shooter to engage and use the charging handle with a gloved hand, during the night or low light situations, or even in high stress situations. The larger latch gives much more surface area that allows the shooter to easily use, and it could even be charged by foot if needed.
Gas Buster
A gas buster charging handle is specifically designed to regulate the gases and pressures that come along with shooting an AR 15. They work well in normal firing situations and are more commonly used with shooting suppressed firearms. As the name also implies, gas buster charging handles help prevent gas blow back in your face when shooting.
Standard Charging Handles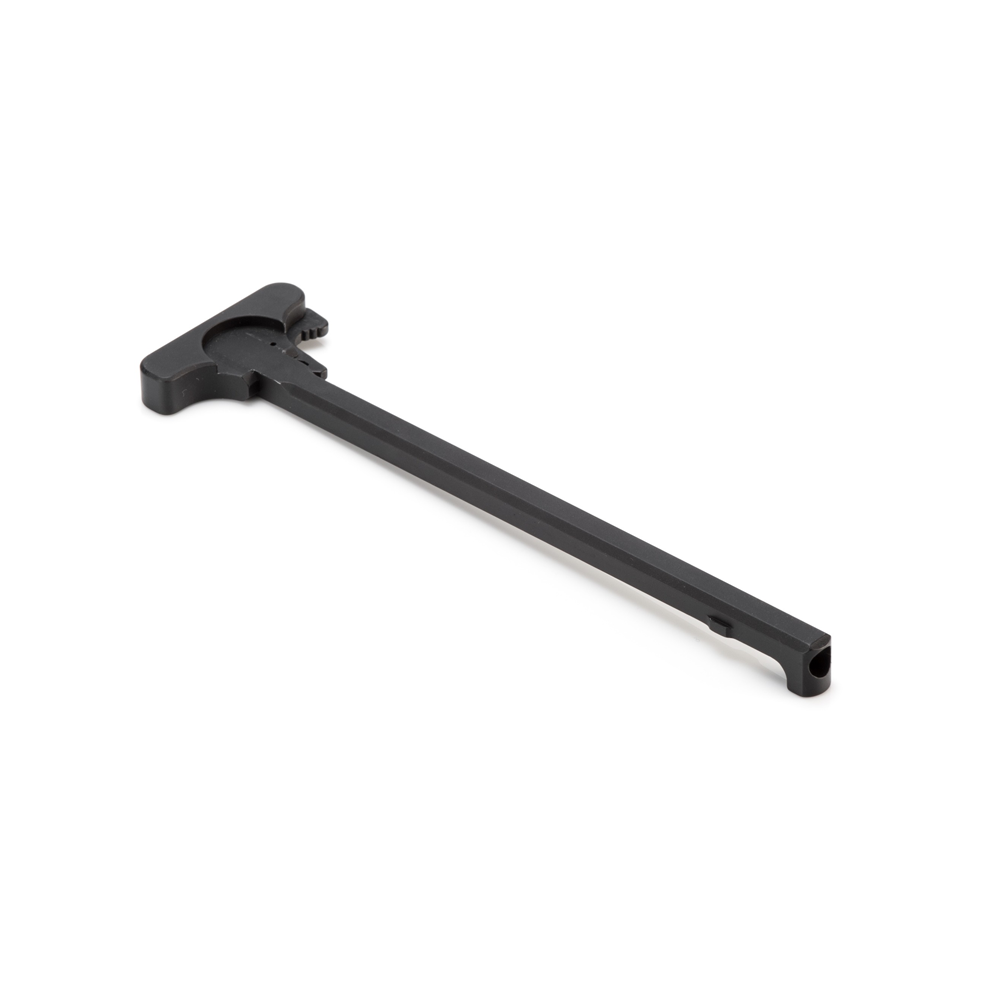 Most AR 15's come equipped with a standard charging handle that is installed at the factory. A basic Mil-Spec handle does not come with anything fancy or extra features. It does, however, perform its basic functions and does them well. If you are typically only using your AR 15 for an afternoon of shooting at the range then a standard charging handle will be more than sufficient.
If you are engaging in more intense shooting, are left-handed, or have a large scope on your gun, another option may be a better choice.
Why Do You Need a Quality Charging Handle
Many people may not take charging handles very seriously. But after putting a lot of rounds downrange, it will quickly become clear just how important having a quality charging really is. If you think about all the important functions a charging handle performs, it becomes even more clear. A good charging handle:
Pulls back on the bolt carrier group, rides over the hammer, cocking it and prepares the fire control group for the next ignition cycle.
Engages the bolt and bolt carrier group, and clears spent shell cases or un-fired rounds.
Is the main component used to clear and solve various types of malfunctions such as double feeds, stovepipes, and failure to fire.
Allows you to check the chamber and visually inspect if there is anything obstructing it or if a round is chambered.
Since the charging handle performs so many important tasks, it is an essential part of an AR 15 and therefore only makes sense that it should not be taken lightly. When building an AR 15, or even if you already have one, the charging handle is an easy and relatively inexpensive part to replace and install. So why not use a quality piece to ensure you get the most out of your gun?
AR 15 Charging Handles to Consider
If you are looking for a charging handle to replace the one in your gun or in the AR 15 you are building, there are plenty of great options out on the market today. Here are some of the more popular charging handles, all found here at Black Rifle Depot!
ARCH-EL Extended Latch Charging Handle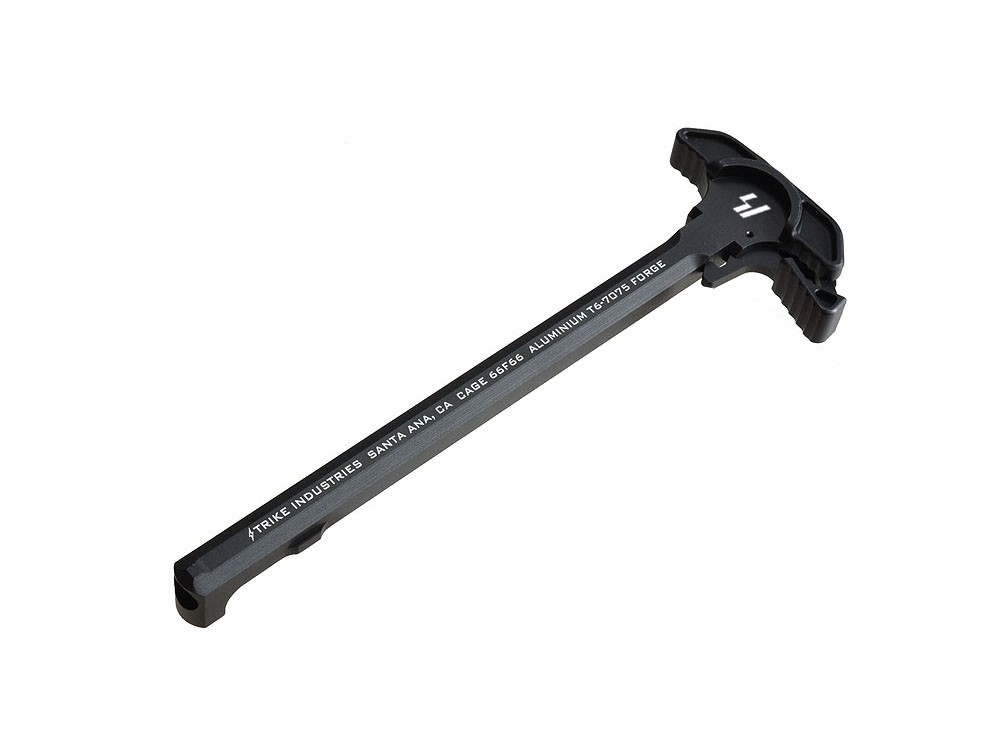 Produced by Strike Industries, the ARCH-EL charging handle is constructed of T-6 7075 forged anodized aluminum and features a large aluminum latch that can easily be used in even the toughest situations. The aluminum extended latch will not wear out a receiver as fast as a steel latch, while still being every bit as durable and reliable. Thanks to its excellent design and high polished surface, it will give you a clean, smooth charge. Coming in at $32.95, this simple upgrade will make your AR 15 feel and function like a brand new firearm!
Bravo Company BCMGUNFIGHTER Charging Handle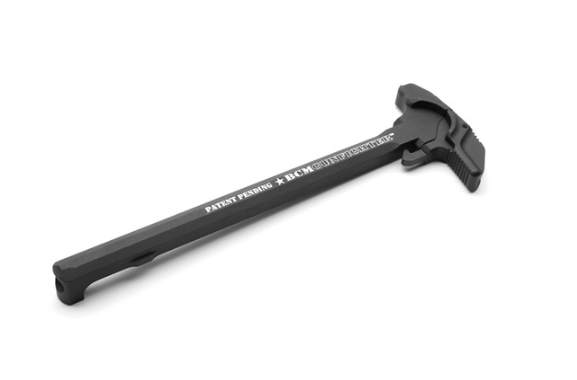 Bravo Company is well known in the AR 15 world for producing very high quality gear, and their BCM Gunfighter charging handle is no exception. Made of T6 7075 aluminum, this handle was redesigned from the ground up to be snag free, and have a larger engagement surface but a smaller silhouette. The design also eliminates the need for a pivot pin and keeps the energy from charging close, and is covered by BCM's lifetime warranty. At $49.95 and sold right here at Black Rifle Depot, the BCM Gunfighter is a great option for a high quality charging handle.
POF Strike Eagle Ambidextrous Charging Handle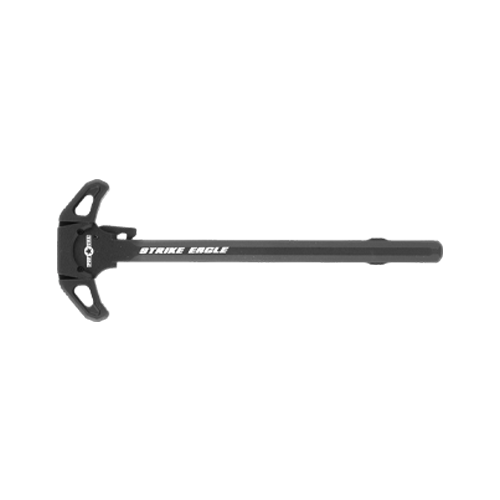 For shooters who want one of the best charging handles out on the market, the Strike Eagle ambidextrous charging handle features oversized serrated wings that give a shooter great control over and ensure positive engagement. Made of 7075 aluminum and finished with an insanely durable Type III hardcoat anodizing, the Strike Eagle is a great option for shooters wanting a high quality ambidextrous charging handle to add to their AR 15.
Installing a New Charging Handle on Your AR 15
Charging handles are very easily replaced and changed out, making them the perfect place to start when customizing your AR 15. The first thing you should do is make sure the weapon is clear and practice all safety precautions when working on your firearm.
With the AR 15 upper apart from the lower, take the charging handle top down and insert the skinny side into the upper along the top of the receiver. By aligning the two bumps on the side of the charging handle with the corresponding cuts on the top channel inside of the upper.
The handle should easily drop down into the channel, and from there you can push the handle about an inch forward. At this point, take the bolt carrier group, making sure the bolt is in the most outward position, and align the gas key with the channel inside the charging handle. Push back the bolt toward the receiver until it locks into place. Place the upper receiver back into the lower reciever and you are done! After doing this once or twice, it is very easy to do again.
Conclusion
As research has carried on since the AR's inception, designers and engineers have developed more advanced charging handle architecture. They have implemented the newest technology to solve or ease the problems mentioned above, such as the lack of ambidexterity in the original design. An upgrade will give you the most flexibility and speed, and an easy way to improve your rifle.
Find the Charging Handle you want here: Best AR 15 Charging Handles
Recent Posts
Is the AR-15 suitable for hunting?When it comes to hunting, traditional bolt-action rifles have ofte …

The AR-15 in the Context of Home DefenseThe topic of home defense is a contentious one, filled with …

Enhancing Your AR-15: The Ultimate Guide to Accessories & UpgradesRegarding the world of firearm …