Comparing AR 15 Lower Build Kits: Unraveling the Differences
In assembling AR-15s, it's critical to understand that not all lower-build kits are identical. Gaining insight into these kits' essential components and differences can significantly streamline your build process, ensuring you have the perfect parts customized to your specific build needs. This blog post aims to shed light on these areas.
Our previous discussion explored some of the best lower parts kits available at Black Rifle Depot. This time, we'll dive deeper into AR-15 Lower Build Kits, focusing on their distinct features, uses, and how they can facilitate an efficient, cost-friendly, and gratifying AR building process.
We offer a comprehensive array of lower-build kits at Black Rifle Depot, each designed with a specific build type in mind. Some of our kits are intended for rifle builds, while others are specially crafted for pistol builds.
When you choose a lower-build kit for your rifle or carbine, you receive all the components encompassed in a standard AR-15 lower parts kit, supplemented by a stock and buffer kit. These inclusive kits are crafted to provide everything you need in one convenient package, making the build process more straightforward and saving you time from searching for individual parts.
On the flip side, if your project involves constructing a pistol, our lower-build kits dedicated to pistol builds are your go-to choice. They include a complete lower parts kit, a buffer kit, and an integral component for a pistol build - an arm brace or stabilizer. Some kits may also have a padded buffer tube for added comfort. These kits are designed considering the unique requirements of AR pistols, ensuring that your build aligns with ATF regulations while offering a pleasurable shooting experience.
In a nutshell, comprehending the distinct offerings and functionalities of AR 15 Lower Build Kits can be a significant advantage when aiming for an efficient, cost-effective, and satisfying building process for your next AR project, be it a rifle or a pistol.
Lower Build Kits for Rifles
JE4 and SOPMOD Lower Build Kits
At Black Rifle Depot, AR builders' most sought-after build kits are the JE4 Lower Build Kit for the AR-15 and the SOPMOD Lower Build Kit for the AR-15. These kits equip you with all the lower parts necessary to complete your AR-15 lower receiver. All the components included are of mil-spec quality and are backed by a lifetime warranty. The key distinction lies in the stock style of each lower-build kit.
Opting for the JE4 kit grants you access to a JE4 Stock kit. This kit features a compact design with a low-profile adjustment latch and a rubber cheek rest for comfortable usage. The unique angled design of the JE4 stock is ideal for use with plate carriers, while its aggressive texturing ensures the stock stays under demanding conditions.
JE4 Stock Details:
A snag-free design to prevent any tangles with gear
Multiple ambidextrous sling mounting options, including QD swivel sockets
Textured butt-pad for enhanced grip
Mil-Spec Receiver Extension
Mil-Spec Spring
Buffer
End Plate
Locking Castle Nut
Lifetime warranty Furthermore, the JE4 Lower Build Kit is available with an upgraded Trinity Force DMR grip. This ergonomic grip includes a storage compartment and design enhancements like finger grooves, a thumb rest, grip texture, and a back-strap extension.
On the other hand, opting for the SOPMOD Lower Build kit equips you with the same lower parts kit as the JE4 but with the added benefit of the SOPMOD Stock Kit. Drawing design elements from a military-style stock, the SOPMOD stock includes numerous upgrades, such as an unlocking buffer tube lever for easy stock removal from the rifle and a robust recoil pad. The SOPMOD stock is an excellent choice for situations where size is not a limitation and rifle weight balance is crucial.
A2 Lower Build Kit
The A2 Style Lower Build Kit for AR-15, though not as commonly sought after as it once was, remains a crucial component for specific AR builds, hence its availability at Black Rifle Depot. The A2 Style Lower Build Kit is on par with the highly-rated JE4 and SOPMOD Build Kits regarding features and quality. It comprises the same mil-spec lower parts kit and is backed by a comprehensive lifetime warranty, ensuring a reliable and durable product.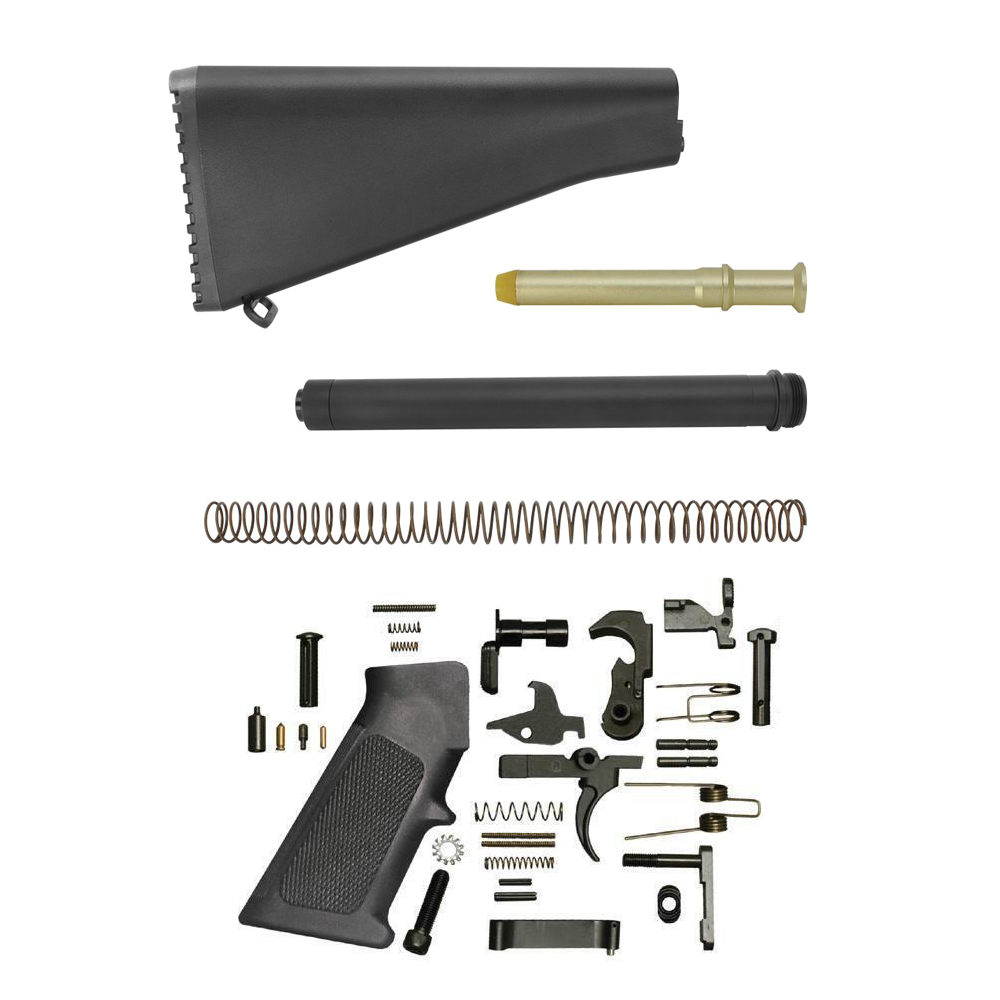 The distinguishing feature of the A2 Style Lower Build Kit includes a fixed, mil-spec stock and buffer kit. The fixed stock represents the traditional design of the AR-15, providing a steady and durable base for shooting. This stock is renowned for its robustness, built to withstand heavy use without compromising stability or accuracy.
The A2 Style Lower Build Kit also has a buffer kit, an essential part of the AR-15's recoil management system. This kit comprises a buffer tube, spring, and buffer, which work together to reduce recoil and assist in cycling the firearm.
So, for those seeking a more classic touch for their AR builds or requiring a rigid, durable stock setup, the A2 Style Lower Build Kit provides an excellent solution that combines reliability, quality, and timeless design.
Mil-Spec AR 15 Lower Build Kit
The Mil-Spec Lower Build Kit for AR-15 from Black Rifle Depot presents an economical yet reliable choice for those seeking to save on their AR15 Parts expenditure without compromising quality or dependability. This kit comes at a pocket-friendly price point and maintains a stringent focus on functionality, ensuring a balance between affordability and performance.
This kit incorporates mil-spec lower parts built to standard military specifications, ensuring compatibility and high-quality performance. This makes it a robust and dependable choice for any AR-15 build.
A significant component of this package is the complete USGI mil-spec buffer tube kit with stock. The buffer tube kit is fundamental to the firearm's recoil mechanism, contributing to its overall shooting performance.
The kit includes a six-position stock, providing versatility to accommodate different shooting positions and styles. This stock is designed with the shooter's comfort and ease of use, promoting a more personalized shooting experience.
One standout feature of the Mil-Spec Lower Build Kit is its spring, coated for enhanced durability and smoother operation, contributing to a reliable and consistent shooting experience.
Above all, the kit comes with a lifetime warranty, which attests to Black Rifle Depot's confidence in the quality and longevity of its products. This ensures your investment is protected and gives you peace of mind for the long term.
The feedback from our customers regarding this particular build kit has been overwhelmingly positive, affirming its place as a valuable choice for anyone looking for a dependable, cost-effective, and no-nonsense AR-15 lower build kit.
Anderson Lower Build Kit
The Anderson Lower Build Kit is a comprehensive package designed to meet all the needs for completing your AR-15 lower receiver. This kit exemplifies Anderson's commitment to quality and performance, promising the precision and dependability that AR-15 builders have come to expect from the brand.
This kit's heart is a complete mil-spec OEM stock and buffer kit. Designed and manufactured to meet the highest military standards, this kit provides the solid foundation for any reliable AR-15 build. The OEM stock included in the kit is known for its robust construction, offering steady performance and durability. In contrast, the buffer kit is essential to the firearm's recoil system, contributing to its overall accuracy and shooting experience.
In addition to the OEM stock and buffer kit, the Anderson Lower Build Kit includes an Anderson Lower Parts kit. This kit comprises various integral components essential for the operation of your AR-15. It's available with a black or stainless trigger and hammer, providing options to suit your preferences and build requirements.
These components are renowned for their superior quality, designed to provide a smooth, consistent trigger pull and durable, long-lasting performance. The trigger and hammer are critical to the functionality of your AR-15, making their quality and reliability paramount for any build.
Notably, all Anderson Lower Build Kit products come with a lifetime warranty. This guarantee underscores Anderson's confidence in their products' quality and durability, ensuring you can invest in your AR-15 build with peace of mind and assurance of the longevity of your components.
In summary, the Anderson Lower Build Kit combines top-quality, mil-spec components with the convenience of choice, all backed by a lifetime warranty. This comprehensive package provides everything you need to complete your AR-15 lower receiver to the highest performance and reliability standards.
Aero Precision Ar 15 Lower Build Kit
The Aero Precision Lower Build Kit stands out as a premium option in the market of AR-15 components. Renowned for its uncompromising quality and commitment to American manufacturing, Aero Precision delivers top-tier products that command respect in the AR-15 community.
Much like the Anderson Lower Build Kit, Aero Precision offers a comprehensive kit that provides all the necessary components to complete your AR-15 lower receiver. But with Aero Precision, you're purchasing not just parts but a badge of quality and dedication to superior craftsmanship.
Every Aero Precision Lower Build Kit component has been made in the United States, adhering to the most stringent manufacturing standards. This adherence to quality and precision ensures that each part fits and functions flawlessly, guaranteeing a smooth and reliable AR-15 build.
The Aero Precision Lower Build Kit encompasses many meticulously designed and crafted parts. Despite the higher price point, the quality of these parts offers excellent value for the discerning builder. These components' performance, durability, and precision are tangible, directly contributing to your build's superior functionality and longevity.
All Aero Precision Lower Build Kit parts are covered under a limited lifetime warranty. This warranty underscores Aero Precision's confidence in their products, assuring you that they stand behind the quality and durability of each component.
In conclusion, while the Aero Precision Lower Build Kit may carry a higher price tag, it is an investment in quality, performance, and durability. For builders who prioritize these factors, it's an excellent choice that will contribute significantly to the success of their AR-15 project.
Magpul MOE Lower Build Kit
Last but certainly not least, we have the Magpul MOE Lower Build Kit. The Magpul brand is a household name amongst firearm enthusiasts, synonymous with high-quality and robust construction. This kit is a testament to their commitment to producing reliable, durable, and practical components that significantly elevate your AR-15 build.
The Magpul MOE Lower Build Kit is a comprehensive offering with a complete mil-spec lower parts kit. Every piece in this kit is meticulously engineered to function flawlessly, providing the performance and reliability you need for your AR-15.
One of the distinguishing features of this kit is the inclusion of the Magpul MOE Grip. This grip is well-known for its ergonomic design and textured surface, ensuring a comfortable and secure grip even under challenging conditions. The grip also features a storage compartment for additional utility.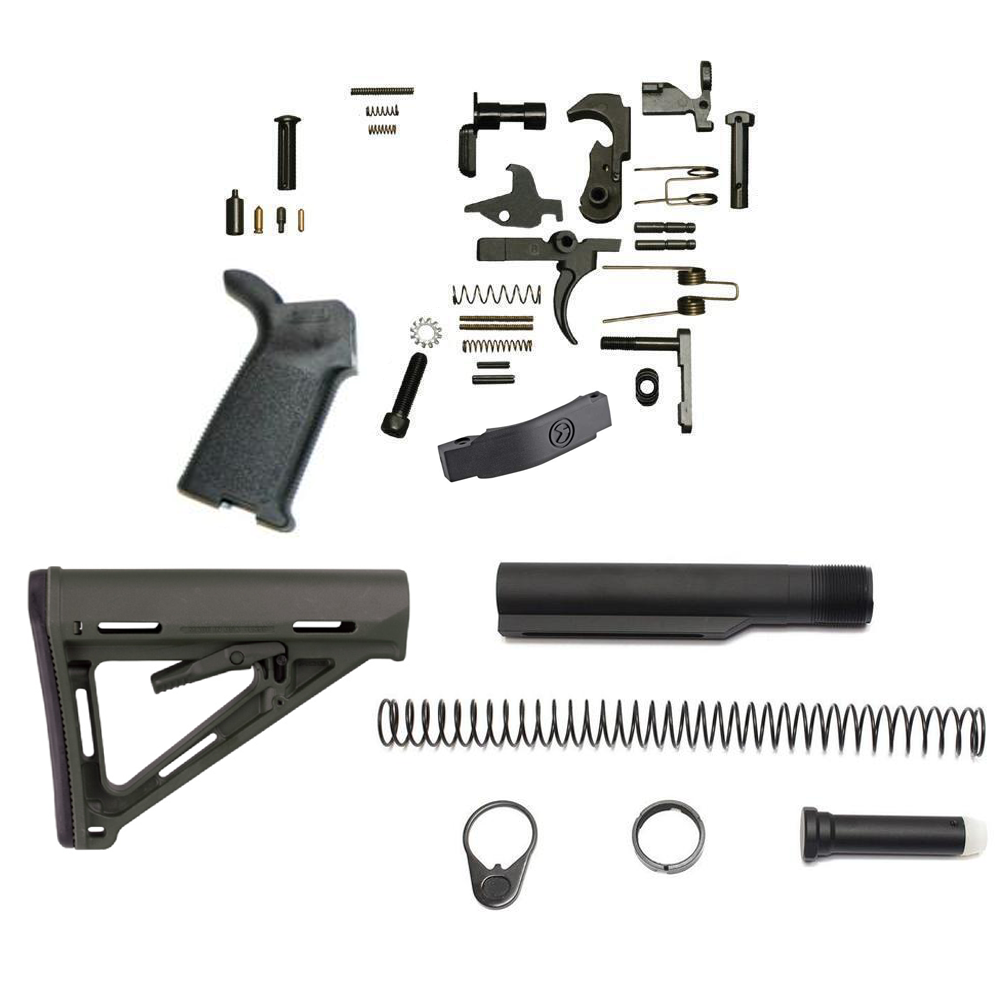 Further enhancing the value of this kit is the Magpul MOE Trigger Guard. Unlike typical flat trigger guards, the MOE Trigger Guard offers a rounded shape that creates extra space for gloved operation, a valuable feature for those operating in colder environments or tactical situations.
Finally, the kit comes with a Magpul MOE Stock. This stock is renowned for its strength, comfort, and adjustability. It features a streamlined A-frame profile that prevents snagging and shields the release latch from accidental activation. It also has multiple sling attachment options and a rubber butt-pad with an anti-slip surface.
While the Magpul MOE Lower Build Kit carries a higher price point, it represents a worthwhile investment for those who value quality and performance. Suppose you're looking to step up from a budget build and are ready to invest in components that offer exceptional durability, enhanced ergonomics, and improved performance. In that case, the Magpul MOE Lower Build Kit is undoubtedly a choice.
Via Magpul about the MOE Grip:
As Magpul offers, the MOE Grip (Magpul Original Equipment) is a significant upgrade from your standard AR15/M4 pistol grip. Thoughtfully designed to fit comfortably in your hand, this grip's ergonomic, hand-filling contouring makes handling your firearm a smoother experience. It pairs anti-slip texturing with a storage core capability, ensuring secure handling and practical storage right at your fingertips.
The MOE Grip boasts a shape similar to a medium-sized MIAD, offering a comfortable grasp for different hand sizes. The one-piece reinforced polymer construction strikes the perfect balance between simplicity and cost-effectiveness without compromising the grip's durability, that's crucial for operational environments. The MOE Grip accepts optional Storage Cores for added gear stowage and includes a basic grip cap to enhance functionality.
When it comes to the MOE Stock, it stands out with a myriad of features that boost its overall performance:
Its reinforced polymer construction guarantees longevity and durability, standing up to rigorous use in various environments.
The stock offers enhanced strength and ergonomics, making it a reliable addition to your firearm.
A sloping cheek weld pairs a slim profile with user comfort, providing an improved shooting experience.
The shielded release latch eliminates the chances of snagging and accidental operation, offering secure and safe usage.
A premium chrome-silicon lock spring ensures optimistic locking and offers long service life, guaranteeing reliability over extended use.
The side mounting slots accept optional cheek risers for NON AR15/M4 applications, offering customization to suit your needs better.
A removable 0.30" Rubber Butt-Pad provides an anti-slip surface and enhances impact protection, improving comfort and stability during shooting.
In summary, the MOE Grip and the MOE Stock offer many features that elevate the performance, comfort, and functionality of your AR-15 build, genuinely making them worth additions to any firearm enthusiast's arsenal.
AR 15 Pistol Lower Build Kit
For those who prefer a minimalist approach to their AR-15 builds, the Pistol Lower Build Kit is a commendable choice. This build kit embodies simplicity, lightness, and practicality, making it an ideal solution for a pistol build. The kit comes with a complete lower parts kit and a Trinity Force Pistol Buffer Kit, ensuring you have everything you need to complete your AR-15 build.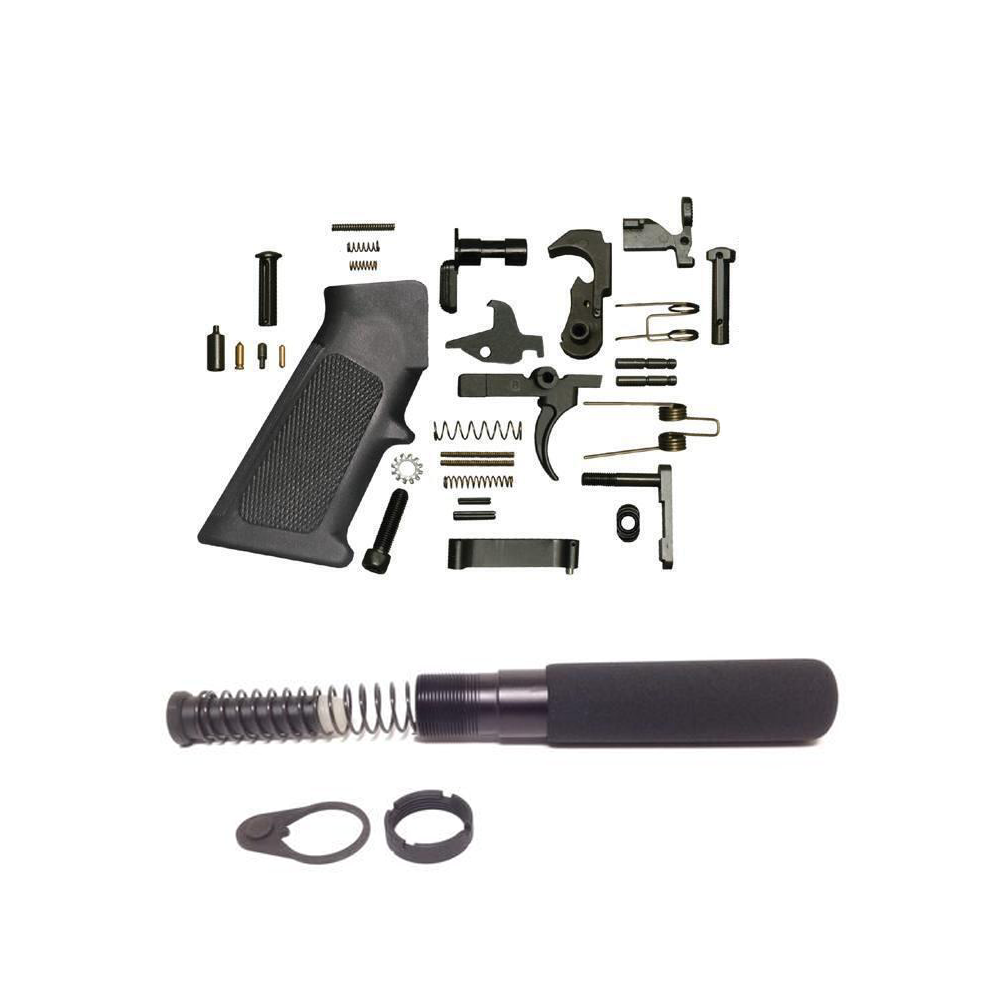 The kit is backed by a lifetime warranty, giving you peace of mind knowing that you're investing in a product built to last. A unique feature of this kit is the buffer tube, which is covered with a high-density foam sleeve. This addition increases the comfort and stability of the firearm, which can be particularly beneficial for those unfamiliar with this type of configuration.
However, when opting for a pistol lower-build kit, it's crucial to remember that federal laws still apply. Ensure you fully understand and comply with all applicable regulations to avoid legal complications. The Pistol Lower Build Kit offers an affordable, straightforward, and reliable option for those interested in building their AR-15 pistol, combining comfort, affordability, and quality in one package.
Wrap Up
Whether you're on the journey of crafting an AR-15 pistol or carbine, rest assured that Black Rifle Depot has an arsenal of options to cater to your needs. Our extensive range includes but is not limited to, the Black Rifle Depot JE4, Sopmod, A2 Style, Mil-Spec, Anderson, Aero Precision, and Magpul MOE AR-15 Lower Build Kits. Each kit brings unique attributes, offering functionality, design, and cost diversity.
Understanding that delving into the world of AR-15 Lower Build Kits can be an overwhelming process for newcomers, we strive to simplify this journey. This blog post was written to provide a comprehensive guide, helping you navigate the various options. But our commitment to your experience extends beyond this.
At Black Rifle Depot, our support doesn't conclude at the checkout. We stand by you throughout your building process, ready to answer queries and guide you through your purchase, ensuring that your AR-15 Lower Build Kits expedition is smooth and rewarding. Here's to creating the perfect AR-15 tailored to your needs!

Recent Posts
The future of the AR-15The AR-15, born from the innovative mind of Eugene Stoner in the late 1950s, …

Is the AR-15 suitable for hunting?When it comes to hunting, traditional bolt-action rifles have ofte …

The AR-15 in the Context of Home DefenseThe topic of home defense is a contentious one, filled with …