AR 15 Handguards
Just like every other part of the firearm, AR 15 handguards come in plenty of different options and are very modular. With all of these options available, it can sometimes be confusing. Even the multiple different names (handguard, forend, forearm, fore grip, etc.) can seem a little odd but they all mean the same thing. So what is the big deal with the handguard?
The handguard on an AR 15 is the section of your firearm that surrounds a portion of the barrel that is used, as the name implies, to guard your hand from the heat generated from shooting and to hold and support the firearm with your non-trigger hand. When it comes to the AR 15 or M16 platform, the first handguards were designed to incorporate into the rifle's overall design for being lightweight.
Early model handguards for the M16 were triangular in shape, and extended down the length of the barrel to the front sight block. At the time of its inception, this was a huge leap forward in firearm design as the handguard, the buttstock, and the pistol grip were all made of lightweight plastic instead of the traditional wood furniture used in guns like the M1 Garand. This was the beginning of the lightweight and functional handguards that we now know and use today.
Handguards make a huge difference when it comes to each individual AR 15, from things such as appearance, weight, and function. While we mentioned that the main function of a handguard is to protect a shooter's hand from the heat from the barrel while shooting, many accessories can also be added to aid in shooting such as angled back up iron sights, lights, lasers, or forward grips. Taking the time to find and use the right handguard for you and your shooting style is very important to having the perfect AR 15!
What are Handguards Commonly Made From?
For most handguards, the two most commonly used materials are polymer and aluminum. Both of these materials are very durable, and aluminum will usually going to be the stronger of the two. Aluminum can, however, emit a little more heat during an extended shooting session than a polymer handguard. Aluminum is much more resistant to heat, although it will heat up itself and can be hot under extreme conditions. If you do a lot of high volume shooting, aluminum is a great option for you.
Polymer handguards will usually have a heat shield constructed of either steel or aluminum that will separate the actual polymer from the barrel. This helps dissipate the heat generated from the barrel, and there are also polymer handguards that will have a steel or aluminum framework to lighten them up and provide structural durability. Polymer does, however, have a lower melting point than aluminum. While it is super rare, under continuous and extreme firing, the heat from your barrel could warp or even melt the polymer handguard. Polymer does, however, provide a little more impact resistance than aluminum.
Either of these two materials are great options, and are easily the most common types of materials used for AR15 handguards. You really can't go wrong with either option, and both are extremely popular with most AR-15 shooters today.
Different AR 15 Handguard Designs
Handguards come in plenty of different shapes and sizes, regardless of what material they are made of. While there are plenty of designs, there are two main handguard designs that you will see the most
often on the majority of AR 15's today, and these two offer the most options when selecting a handguard for your AR 15.
Drop-in Handguards
There are plenty of different handguard designs out on the market today, but one of the main design categories that most handguards will fall into are called drop-in handguards. These are the most popular handguards that you will see on most AR-15's, and for good reason. They are super easy for anyone to install themselves, and are usually made of lightweight polymer.
Many polymer drop-in handguards will be made of two different pieces that will fit around the barrel. They are generally fastened together by a handguard cap towards the front, and secured by a delta ring assembly in the rear. They get their name from how easy it is to install them, or to "drop-in" a new one. Installing them is super easy, and can literally be done in less than a minute. Simply pull back on the spring loaded delta ring to remove the current handguard, follow the instructions on the new one and put it in almost in reverse of removing one and there you go! Brand new handguard in no time!
Most drop-in polymer handguards are offered in different lengths, in order to accommodate the varying gas system lengths of whatever AR-15 they are going on. They are generally the cheapest option, but they do have one slight disadvantage. Because of their design, they incorporate a handguard cap that is usually in contact with the forward portion of the barrel. This can possibly affect accuracy, especially if using fore grips or bipods with the handguard. This is not always the case, but something to be aware of if precision accuracy concerns you.
Free-Float Handguards
The other type of handguards that are the most popular are free-float handguard options. Almost all of these are made out of aluminum instead of polymer. They generally also cost a little more, but they do offer a big advantage over drop-in handguards in that they do not contact the forward portion of the barrel, which can be a major benefit to the rifle's accuracy.
Free-float handguards usually come in one solid piece that will slide around the barrel and are generally attached with some sort of barrel nut. These types of handguards are usually equipped with different types of mounting systems and accessories, as well as being available in different sizes, lengths, and styles. Free float handguards will also sometimes require more effort and time to install, and some will even require the use of special tools or equipment as well. Free float handguards are quickly becoming some of the most popular handguards on in the market today.
Accessory Mounting Systems
A mounting system will allow you to install a wide variety of accessories to your AR 15, such as slings, sights, lasers, lights, bipods, forward grips, and whatever else you may want on your firearm. In today's market, there are three main types of mounting systems: Picatinny, keymod, and M-LOK.
Picatinny Rails
For many years, the picatinny rail system has been the standard and preferred system used by both military and law enforcement. This system uses dovetail angles and grooves to allow you to mount
anything you want so long as it is compatible. These system can also be used for the quad rail, or "quad" when there are four rails on each side of the rifle: top, bottom, left and right. The downside to using the picatinny system, and why it is slowly losing popularity year after year, is how heavy it is. Because the other two systems use machine cut-outs for attaching accessories, they are much lighter.
Overall, this system is probably the most familiar and the longest running system of them all. If the additional weight and bulk of the picatinny platform doesn't bother you, then there is nothing wrong with this system and it is a tried and true design. You will be pretty much guaranteed mounting for just about any accessory and won't need to spend extra for any parts. This is probably also the cheapest option out of all of them as well.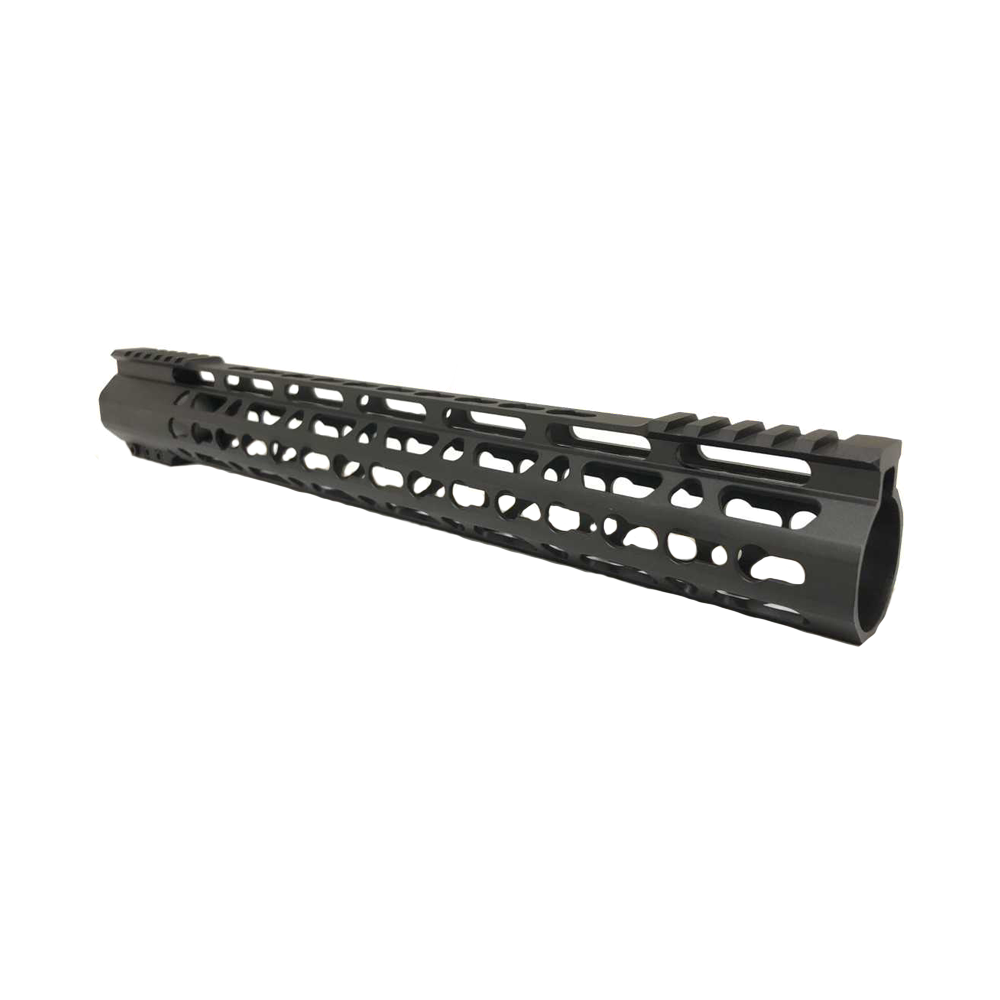 Keymod
Keymod gets its name from the slots in the system that look like keyholes. To use a keymod handguard, all you have to do is place the mounting lug in the keyhole and slide it to the narrower end to tighten your attachment securely to the firearm. It is extremely easy to use and nowhere near as heavy or bulky as the picatinny system.
One of the only possible downsides to keymod is that you might not be able to find as many accessories compatible with this system as you would M-LOK, mainly because some of the biggest names in the industry produce products only compatible with the M-LOK system. Another slight disadvantage to keymod is that some accessories may not work very well with polymer handguards because of the design.
If you are searching for a slimmer, lightweight option better than the traditional picatinny, then keymod may be perfect for you. Keymod has been incredibly popular because of its modularity and lighter weight, and there is no end to the amount of accessories that you can mount with it.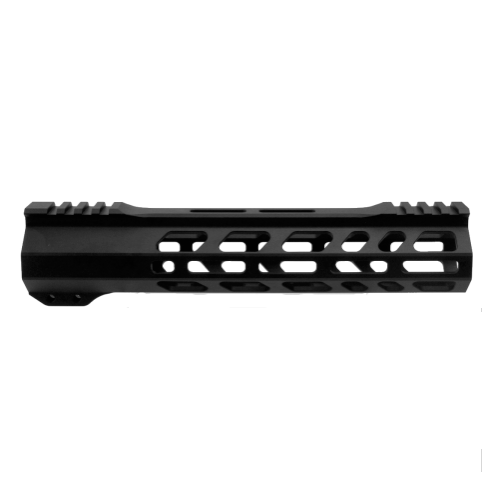 M-LOK
The name M-LOK stands for modular lock, and was created by Magpul, a large name in the industry. This innovative new way to mount accessories, unlike keymod, isn't an open source system. While any company or manufacturer is free to license it if they ask permission, but the M-LOK system must be made with the same quality as the original design. This means you are practically guaranteed that any M-LOK mounting or accessory attachments are all going to be very well made and uniform.
Instead of the keyhole shaped holes that keymod uses, M-LOK uses narrow slits and T-shaped nuts that lock into place once they are installed. This system has many advantages, including the fact that accessories can be mounted either towards the front or rear of the slit you are using, giving you the ability to put it in just the right spot. This system also works well with polymer handguards.
If this system has any disadvantages, it is that it can sometimes be a little tricky to properly align any attachments that you are installing. M-LOK is quickly gaining more and more popularity every year, as more and more companies are making accessories using this mounting system.
Keymod vs M-LOK: Which One is best?
While each system has its own set of advantages, disadvantages, and style, it will really come down to personal preference which one is better. In 2016, the United States Special Operations Command put
the two systems through a series of tests to see which one was better. The purpose was to see which one survived rough handling, drop tests, failure loads and endurance tests.
In the endurance and rough handling tests, both systems had zero issues. A difference came with a repeatability test, and M-LOK came out on top when it came to least amount of MOA shift when removing, then re-attaching a rail with laser sight. Another difference was found in the drop test, when it was found that M-LOK accessories remained attached 100% of the time while keymod accessories only remained attached 33% of the time.
While this test did not turn out very great for keymod, it does not mean that it is a bad system. Both mounting systems work great and are very popular and available. Whichever system you use, rest assured that it will successfully allow you to add whatever accessories you want to your AR-15.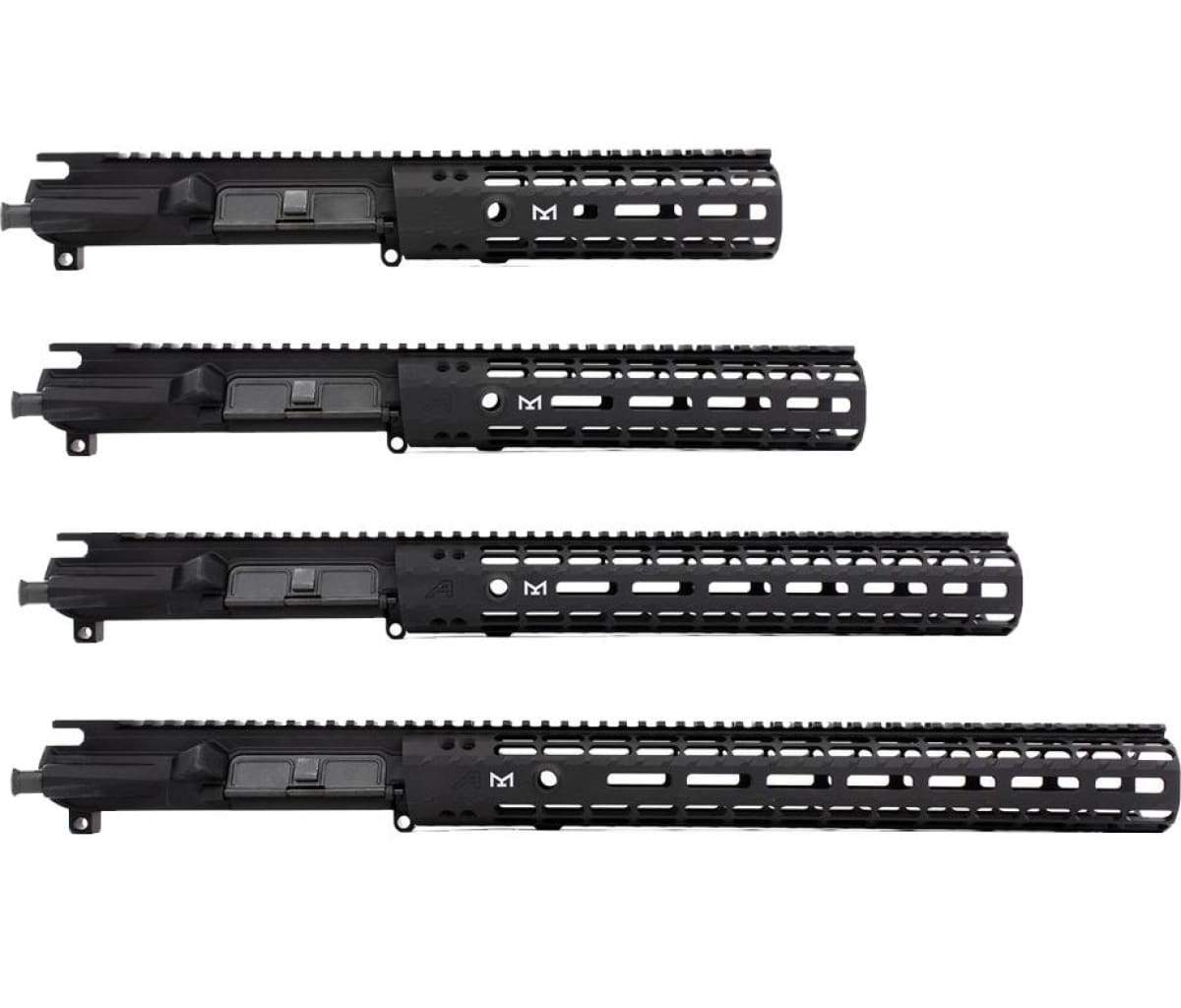 Different Handguard Lengths
Once you decide on the type of handguard you want, what about the length? Luckily most handguards, regardless of design or material, are available in multiple different lengths. They come in a selection of standard lengths that will correspond to standard lengths made for the barrel and gas system. Figure out what barrel length and gas system you have or will be running, and make sure you get a handguard that will perform properly with the specs you need.
In addition to the gas system and barrel lengths, consider the length of your handguard for accuracy. In addition to weight, the length of a handguard can affect overall accuracy. By selecting the right handguard, you can tighten up your shooting groups and at the same time reduce weight, provide better grip placement, and give you a wider variety of accessory mounting.
Most Popular Handguard Accessories
The main purpose of having a mounting system on your handguard is so that you can mount accessories on your firearm. What accessories are those and what should you install? There are plenty of different options on the market today for a wide variety of accessories, such as lights, lasers, infrared, grips, and bipods.
One of the most popular accessories for any AR 15 is some sort of flashlight or weapon light. This can provide a shooter with many benefits, including being able to shoot in low light situations. It can also allow you to better identify your target before you take a shot. In terms of home defense, a bright light could also be used to temporarily blind your attacker or target, in addition to providing all of the other benefits.
A front grip is also another great accessory that is usually attached to the handguard. When shooting an AR-15, most people will typically hold the handguard under the bottom. Adding a front grip will help you gain a more comfortable hold on the gun, as well as help in recoil reduction. Whether it is a vertical fore grip, angled fore grip, or anything in between, a front grip can help you have a safe and reliable place to put your hand.
Handguards also give you a place to attach accessories wherever you want them and what feels most comfortable to you and your style of shooting. Say for instance you attach a bipod for a stable rest. With many of the different mounting systems available, you can adjust and attach the bipod in the exact spot
on the handguard that feels best for you. The same can be said with just about any attachment, including rifle slings.
Think about your AR 15's general use and purpose before buying or attaching accessories to it. Everything on there should serve a role and purpose to be on there, and many new shooters will overload their guns with unnecessary accessories that do nothing but add extra weight to the gun.
What to Look for When Buying a AR 15 Handguard
When looking for a handguard, there are a few things to consider before buying. These factors include: mounting options, weight, accuracy, heat resistance, price, and ease of installation. The handguard you decide on will have to be able to have the mounting options that you prefer, and the mounting system that you decide on whether its keymod, M-LOK, or picatinny. Think about the type of accessories that you will want to mount on your rifle and how you want to mount them.
Another factor, and probably one of the most important, is weight. The more you add to your firearm, the heavier it will get. Will you be ok with sacrificing some weight in order to add some functionality to your gun? Also keep in mind that the lighter and stronger something is, the more costly it will be. You should also think about what kind of accuracy you are expecting, as certain handguards will be better for precision shooting than others.
Next think about how easy it is to install a handguard that you want. Some are very easy to install, while others may require you to modify your AR-15. An example of this is with free float handguards, you may have to dissemble your rifle temporarily in order to properly install it. The process may also call for special tools and equipment such as wrenches or a vice.
The last two things are price and heat resistance. The entire purpose of a handguard is to protect your hand from the heat of the barrel, so choosing a handguard that will serve this purpose is paramount. Most handguards are designed to perform this way, although some will be better than others. Lastly, consider the price and budget. Handguards are available at all different price points, so finding one that fits your budget and needs is possible!
Conclusion
Many people refer to the AR 15 as "Legos for grown men" because of how interchangeable the parts are and how many there are available. The handguard is an essential part of the firearm, and one that comes with a great amount of options and varieties. Whether you want to customize the length, color, style, material, or weight, there is probably a handguard out there that is perfect for you!
Recent Posts
Is the AR-15 suitable for hunting?When it comes to hunting, traditional bolt-action rifles have ofte …

The AR-15 in the Context of Home DefenseThe topic of home defense is a contentious one, filled with …

Enhancing Your AR-15: The Ultimate Guide to Accessories & UpgradesRegarding the world of firearm …