Description
The ODIN Works gas block is truly adjustable and packed with features. Machined from steel and black nitrided for durability. Front facing Inconel adjustment screw and spring to handle high temperatures. 20 clicks of ball detent adjustment, no set screws needed, simply adjust the Inconel screw where you want it and you're done. The ODIN Works adjustable gas block will fit any barrel with .750" diameter and works with any caliber.
Includes:
.750″ inch Gas Block

Inconel Alloy adjustment screw and spring

Detent ball, cross pin, set screws

hex wrenches included
Technical Specs:
20 separate adjustments possible
Fits .750″ diameter gas journals
2.10 ounces overall weight
Carbon steel construction
To Disassemble for Periodic Cleaning: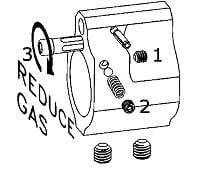 1. Loosen set screw #1
2. Loosen and remove screw #2.
3.Carefully remove spring and detent ball.
4. Remove gas adjustment screw #3.
5. Soak in cleaning solvent.
Extra Information
Videos