A Comprehensive Guide to the Most Popular and Reliable Options of AR-15 Parts
Embark upon a journey through the rich landscape of some of the best AR-15 Parts brands, where the meticulous amalgamation of precision, durability, and supreme craftsmanship enhances the formidable performance of the AR-15, a rifle esteemed by enthusiasts and defenders across the United States. This Comprehensive Guide to the Most Popular and Reliable Options delves into a curated exploration of select brands, such as Magpul Industries, Aero Precision, and Bravo Company USA, which have adeptly navigated through the expansive domain of AR-15 parts, carving their respective niches. It's paramount to note that the brands highlighted herein are not ranked but serve as a snapshot into some exemplary entities renowned for their AR-15 parts in the current market.
In the following sections, we unravel the merits, pioneering innovations, and customer-centric approaches that have propelled these brands to the forefront. Whether assembling your first AR-15, enhancing your current setup, or curiously exploring the industry's stalwarts, this guide illuminates pathways toward astute, impeccable choices. Journey with us through a world where brand distinction becomes synonymous with your AR-15's reliability, accuracy, and steadfastness. Together, we shall uncover the compelling stories, avant-garde technologies, and engineering feats that elevate these brands, providing you with discerning insights as you traverse the multifaceted world of AR-15 components. Here's to unfurling the full potential of your AR-15, guiding you toward the apex of parts in today's vibrant arms market.
Magpul Industries
Diving into the realm of AR-15 accessories and components, the name Magpul Industries frequently emerges, revered by enthusiasts and professionals alike. But what precisely distinguishes this brand in a market brimming with competitors, and why should individuals invest their hard-earned money in Magpul's products? Let's elucidate.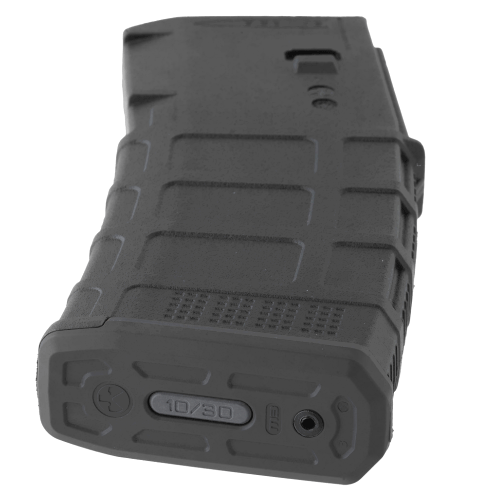 The PMAG series by Magpul, a line of Polymer MAGazines, stands out for many reasons. It offers a durable and reliable alternative to traditional metal magazines. It introduces enhancements, including a self-lubricating follower and an impact-resistant construction, ensuring optimal functionality even under stringent conditions. The PMAG has become an industry benchmark, admired for its ability to deliver consistent, top-tier performance while providing exceptional value for money. Consumers find solace in a product that parallels the demands of casual and professional shooting endeavors and assures longevity and steadfast reliability.
Furthermore, Magpul's MOE (Magpul Original Equipment) product line, encompassing items like stocks, grips, and handguards, seamlessly amalgamates affordability with unwavering quality. The MOE series presents a robust, lightweight, and cost-effective alternative to standard AR-15 components, offering ergonomics, functionality, and aesthetics enhancements without imposing a hefty price tag. It's a quintessential example of obtaining superior quality and enhanced performance without necessitating an excessive expenditure.
In the arena of weapon slings and sling mounts, Magpul's MS (Magpul Sling) series is renowned for offering versatile, durable, and ergonomic solutions. They provide users with various carrying options, ensuring comfort and rapid weapon deployment. This practicality in real-world applications, from tactical to recreational use, signifies a wise investment for those desiring comfort, swift operability, and durable construction.
Moreover, Magpul's commitment to quality and customer satisfaction further cements its place as a brand worthy of investment. Their products are meticulously engineered, rigorously tested, and continually refined to ensure they meet the highest standards of reliability and functionality. For a consumer, investing in Magpul translates to investing in a legacy of quality, innovation, and dependable performance.
Magpul Industries carves its stature through a diverse catalog of innovative and quality products and its unwavering commitment to providing real-world solutions for firearm users. When individuals allocate their finances towards Magpul, they are acquiring more than just a physical product; they are procuring a piece of assiduous engineering, consistent reliability, and a brand that persistently endeavors to elevate the user experience across all spectrums of firearm usage. Magpul signifies a reasonable allocation of resources, providing durable, reliable, and user-centric products that stand the test of time and use, whether for professional, tactical, or recreational purposes.
Bravo Company USA (BCM)
Bravo Company USA (BCM) has steadily carved out its reputation within the firearm industry, earning accolades and trust from casual shooters and professionals alike, particularly those who prefer the AR-15 platform. But what anchors BCM's position as one of the best companies in the domain of rifles and accessories? Let's delve into the compelling reasons.
A quintessential cornerstone of BCM's reputation is its unwavering adherence to quality and reliability. Acclaimed for their reliable and high-quality rifles and accessories, BCM's products are engineered to perform under the most stringent conditions, mimicking military specifications. For instance, BCM's M4 and AR-15 style carbines and rifles are recognized for their precision, durable construction, and ability to withstand rigorous use. For operators relying heavily on their equipment in critical situations, this commitment to quality isn't merely a benefit but an absolute necessity.
The rigorous testing and quality assurance that BCM's products undergo are second to none. Before reaching the consumer, every rifle is subject to a multipart quality assurance process, ensuring that it adheres to the promised specifications and functions with unparalleled reliability. Their comprehensive testing methods eliminate potential issues or defects, offering the end-user a product ready to perform straight out of the box.
Furthermore, BCM is celebrated for the versatility of its offerings. The brand provides a diverse range of rifles and accessories, allowing users to customize and optimize their firearms according to specific requirements and preferences. From handguards that offer improved heat resistance and ergonomics to customizable grips and robustly constructed handguards, BCM provides various options to enhance their firearms' functionality and user experience.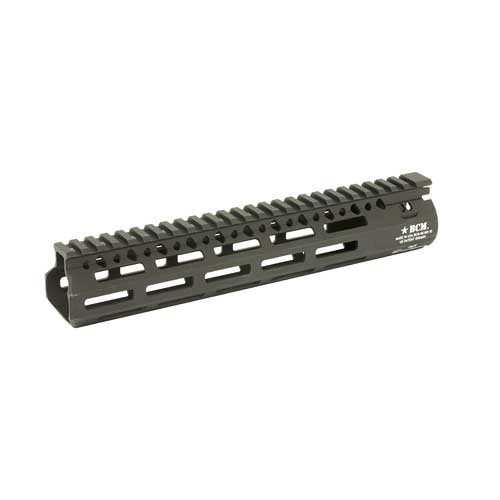 Then, there's the aspect of BCM's innovative spirit. Their continual pursuit of improving, refining, and innovating their products underscores a commitment to meet and exceed user expectations. The company employs modern technologies and design principles to enhance its products' efficiency, durability, and operational capability. This brand doesn't rest on its laurels but strives for improvement and innovation.
Lastly, the educational and community involvement of BCM must be considered. Through their media channels, they provide invaluable insights, training tips, and educational content that enhance the skill and knowledge of the firearm community. This not only aids in fostering a well-informed and safe user base but also builds a community that shares a collective passion and respect for firearms.
Bravo Company USA encapsulates a marriage of relentless quality, innovative development, user-centric design, and community engagement, collectively merging to form a brand that stands tall in the firearm industry. Investing in BCM is not merely an acquisition of a product; it's an investment into a brand that signifies reliability, quality, and a continual pursuit towards excellence and community enrichment, ensuring every dollar spent is reciprocated with unrivaled value and performance.
Geissele Automatics
Geissele Automatics stands out in the competitive AR-15 components market, notably for its high-performance triggers and expanded range of quality AR-15 parts. For several compelling reasons, the brand merits a spotlight in discussions about top-tier AR-15 part brands.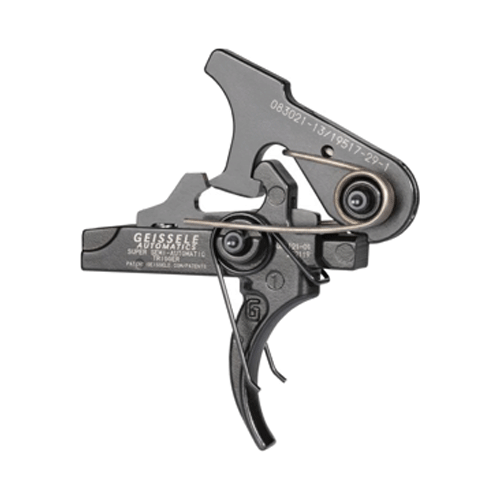 Precision and reliability define Geissele triggers, making them popular among professional shooters, military personnel, and firearm enthusiasts. These triggers, known for their clean break and short reset, enable shooters to place shots accurately with minimal effort, enhancing the overall shooting experience. For those who prioritize accuracy and refined functionality, a Geissele trigger is a pivotal component that significantly elevates firearm performance.
Moving beyond triggers, Geissele demonstrates expert engineering across an array of AR-15 parts, consistently emphasizing quality and performance. Consider their handguards, celebrated for robust construction, sleek design, and user-friendly installation. Every component, whether a handguard, trigger, or another part, is designed to deliver noticeable improvements in performance, durability, and user interaction.
A commitment to using premium materials and employing advanced manufacturing processes is another hallmark of Geissele. The company utilizes sophisticated machining techniques and selects high-grade materials to produce components that are not only durable but can also withstand the rigors and adverse conditions of intense usage. This durability is vital for users who subject their AR-15s to heavy use, where reliable components are beneficial and essential.
Moreover, Geissele is noted for its exceptional customer service and supportive framework. By providing informative customer support and demonstrating a genuine willingness to assist, the company ensures users are not merely acquiring a product but forming a relationship with a brand that supports its offerings wholeheartedly.
Exploring Geissele's diverse product lineup reveals a deep understanding of practical applications and user needs, reflected in their products that are innovative and pragmatically beneficial. Every product communicates the brand's expertise and meticulous attention to detail, from refined trigger mechanisms to ergonomic handguards.
Geissele Automatics combines innovative engineering, superior manufacturing, and a keen understanding of shooter needs, validating its place in conversations about elite AR-15 part brands. For those who value precision, reliability, and a brand that unreservedly backs its products, Geissele Automatics stands out as a strong contender, earning its place and recognition in the AR-15 domain.
Knight's Armament Company (KAC)
Knight's Armament Company (KAC) has long been a name that resonates with respect and trust among the firearm community. It consistently showcases a compelling product line that warrants its recognition in any discussion of top-tier AR-15 part brands. Celebrated for their high-quality firearms and accessories, KAC embodies a tradition of craftsmanship and innovative design that situates them favorably in the firearms industry.
Knight's Armament Company has a rich history and a solid foundation in developing firearms and accessories that are not only steeped in quality but also innovative in design. The SR-15 rifle, one of their hallmark creations, exemplifies the precision, reliability, and innovative engineering that KAC brings. The gun, praised for its accuracy, durability, and quality of construction, reflects the company's commitment to producing firearms that meet the highest performance and reliability standards.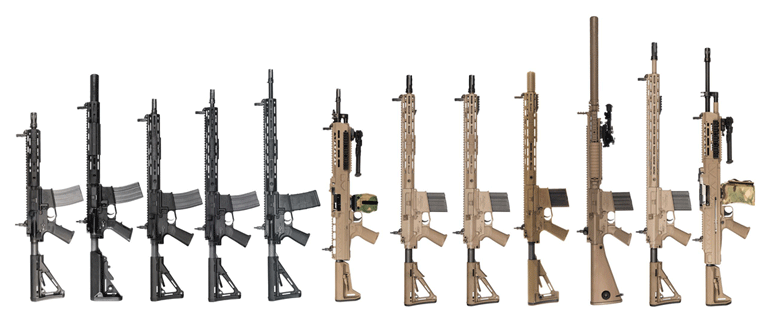 But the prowess of KAC extends beyond exceptional firearms. The company is also renowned for producing some of the industry's most respected accessories. For example, their rail interface system, one of the first free-floating rail systems available for the AR-15 platform, demonstrated an innovative approach to enhancing the accuracy and modularity of the firearm. Such innovative products not only cater to the practical needs of shooters but also pave the way for future advancements in firearm technology.
KAC's suppressors are another example where they've showcased their dedication to quality and innovation. Built to reduce noise, muzzle flash, and recoil, KAC suppressors are widely regarded for their performance and durability, attaining a balance that is sometimes elusive in the market. Their suppressors also exhibit superior design and construction, embodying durability and reliability that cater to both professional operators and civilian shooters.
The company's accessories, such as handguards, sights, and rail adapters, are synonymous with quality, reliability, and practical design. Knight's Armament consistently produces accessories that enhance firearm functionality and shooter experience, balancing robust construction with ease of use.
Moreover, KAC's emphasis on research and development illustrates its commitment to pushing the boundaries and continually elevating the standard of its offerings. This continual evolution in their product line demonstrates a brand not content with the status quo, always striving to offer products that blend the latest technology and proven reliability.
The inclusion of Knight's Armament Company in a list of top AR-15 part brands is merited through a legacy that blends quality, innovative design, and a commitment to continual improvement. The company doesn't just manufacture firearms and accessories; it engineers experience, ensuring that every product with the KAC name reflects a deep-seated commitment to quality, innovation, and the end-user's needs. Thus, for those who seek to invest in products where every detail is a testament to quality and reliability, Knight's Armament Company emerges as an exemplary choice.
Aero Precision
Aero Precision is a hallmark in the firearm industry, particularly when discussing high-grade AR-15 parts, making it an essential mention in our exploration of notable AR-15 part brands. With a reputation built upon the bedrock of quality and precision, the company has garnered respect and recognition, especially for its superior receivers, among firearm enthusiasts and professionals alike.
Distinguished particularly for its exceptional AR-15 receivers, Aero Precision exemplifies meticulous engineering and an unwavering commitment to quality. The receivers are pivotal in ensuring that the AR-15 operates with smooth functionality and reliable performance. Recognizing receivers' vital role, Aero Precision employs state-of-the-art manufacturing processes and top-tier materials to deliver durable, dependable products that exemplify precision.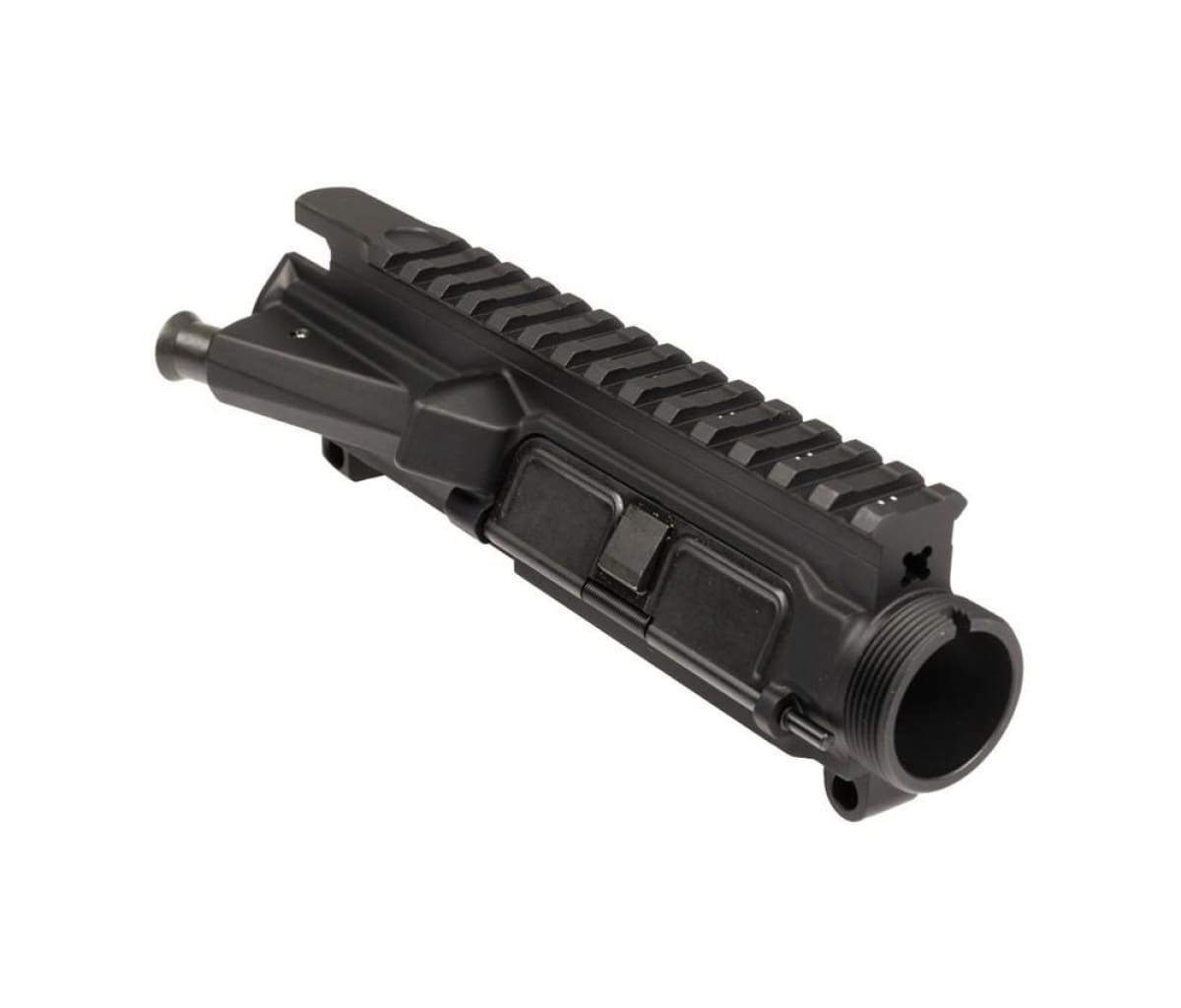 In AR-15 building and modification, the importance of a reliable receiver - the heart of the rifle, connecting its critical components - cannot be overstated. Aero Precision's receivers stand out in this domain due to their precision-machined designs, ensuring a tight and secure fit, optimal alignment, and smooth operation of all integrated parts. This precision provides a solid foundation for building or upgrading an AR-15, ensuring the rifle operates with the consistent reliability that discerning users demand.
Aero Precision doesn't merely stop at receivers; the company extends its ethos of quality and precision across a broad array of AR-15 parts. Their handguards, barrels, and scope mounts, among other components, are designed and manufactured with the same exacting standards, ensuring that every product from Aero Precision enhances the functionality and longevity of the firearms they grace.
It is also notable that Aero Precision approaches the design and manufacturing of its AR-15 parts with the experienced builder and the new enthusiast in mind. The company provides products catering to varied skill levels and project complexities, offering complete assemblies for newcomers and individual components for veteran builders desiring a custom approach.
Customer support and a genuine investment in user satisfaction also set Aero Precision apart. The company provides resources, guidance, and help to ensure that users, whether engaging in a new build or upgrading an existing setup, find value and reliability in every purchase.
The notable attributes of Aero Precision - high-quality materials, meticulous manufacturing, precision engineering, and robust customer support - converge to render it a standout choice for any AR-15 project. For builders and modifiers who demand parts that promise reliable performance, enhanced durability, and precise functionality, Aero Precision is not just a choice; it's a hallmark of quality in the AR-15 building and enhancement journey. Consequently, it proudly earns its spotlight in our discussion about premier AR-15 part brands.
Daniel Defense
Navigating the domain of premium rifles and firearm accessories, Daniel Defense emerges as a brand that demands attention and accolades, seamlessly intertwining innovative engineering with reliable product performance. This recognition propels it into the limelight in any conscientious discussion of top AR-15 part brands, especially for those prioritizing unyielding quality and performance.
Daniel Defense has a formidable reputation for producing premium rifles often linked with unparalleled quality, durability, and precision. The company's commitment to employing only the most advanced materials and engineering techniques underpins its ability to produce firearms that are not only robust but also deliver outstanding performance in various conditions. This is palpably demonstrated in their V11 series, which has garnered acclaim for its reliability, ergonomic design, and meticulous construction – hallmarks that discerning shooters seek.
The brand's approach to manufacturing rifles and firearm accessories echoes a consistent and uncompromising commitment to quality. Daniel Defense employs a Cold Hammer Forging process in manufacturing its barrels, a technique renowned for producing robust, precise, and high-performing barrels. This method elongates the barrel's life and ensures it provides unwavering accuracy shot after shot, thereby offering users a product that isn't just durable and exceptionally reliable.
Daniel Defense again showcases its adept ability to meld innovative design with practicality in the world of firearm accessories. The brand's Rail Interface System (RIS) is widely respected among firearm enthusiasts and professionals for its lightweight yet robust design and ability to mount many accessories securely. Their user-friendly and versatile accessory range allows shooters to customize their firearms to meet specific needs and preferences.
Daniel Defense's understanding of real-world applications and scenarios is not to be overlooked, which informs its product design and engineering. The brand is not merely manufacturing products but crafting solutions that address its user base's practical and often demanding needs, whether professionals in the field or discerning civilian shooters.
Moreover, the transparent and supportive customer service offered by Daniel Defense mirrors its commitment to ensuring that every shooter, regardless of their experience level, can confidently navigate their firearm journey with the brand's products. The brand actively seeks to stand beside its clientele, providing guidance, support, and resources that enhance the overall ownership experience.
The reputation of Daniel Defense as a manufacturer of premium rifles and firearm accessories is not unfounded. Still, it is deeply rooted in its relentless pursuit of quality, innovation, and user-focused design. For those who prioritize long-term reliability, practical design, and a brand that underpins its products with robust support, Daniel Defense emerges as a brand that not only warrants consideration but demands it. Therefore, its spotlight within this exploration of lauded AR-15 part brands is both earned and substantively justified.
Anderson Manufacturing
Anderson Manufacturing holds a distinct position in the realm of AR-15 parts manufacturers, blending affordability with a steadfast commitment to reliability. The company's alignment with cost-effective solutions, without compromising the reliability of the parts, renders it a notable mention in discussions highlighting commendable AR-15 part brands.
In a market where the price often acts as a barrier to entry for many firearm enthusiasts, Anderson Manufacturing steps in, offering a range of AR-15 parts that are accessible in terms of cost but also hold their own regarding dependable performance. This unique balance positions Anderson as a go-to brand for both novices in the AR-15 building sphere and seasoned builders who seek reliable parts without a hefty price tag.
A prominent offering that stands out in Anderson Manufacturing's lineup is its lower receivers. Recognized for their durability and precision, these lower provide a sturdy foundation for any AR-15 build or upgrade. Notably, the company offers these crucial parts at a price point that opens up the possibility of creating a reliable AR-15 for a broader audience, ensuring that budget constraints do not inhibit access to quality firearm builds.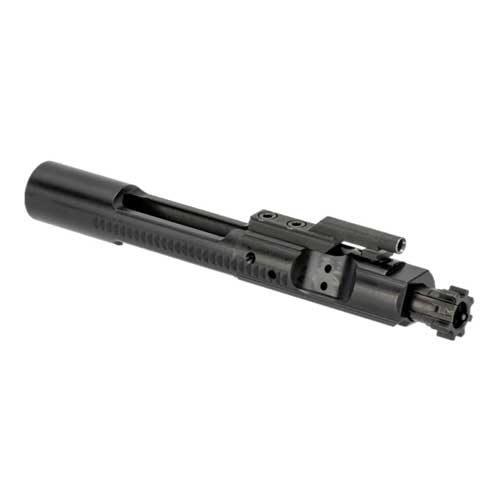 Anderson Manufacturing also provides a variety of other AR-15 parts, including upper receivers, bolt carrier groups, barrels, and more, all maintaining consistency in delivering affordable alternatives without a tangible sacrifice in quality. Their comprehensive product catalog allows builders to acquire nearly every component needed for an AR-15 build under one brand, ensuring compatibility and reliable function.
Affordability does not translate to lackluster customer service in Anderson Manufacturing's philosophy. The company extends its commitment to providing value to its customer support, ensuring that users, regardless of their experience level, have access to guidance and resources throughout their AR-15 building journey. This user-centric approach amplifies the brand's appeal, aligning cost-effectiveness with a supportive user experience.
In the landscape of AR-15 part providers, Anderson Manufacturing delineates its path, affirming that reliability and affordability can coexist harmoniously. For builders who seek to navigate the AR-15 building journey with a brand that provides a breadth of affordable, reliable parts coupled with a supportive backbone, Anderson Manufacturing is a choice that aptly satisfies these criteria. Thus, its inclusion in a discussion spotlighting noteworthy AR-15 part brands is not merely warranted but decidedly essential.
Spikes Tactical
Spikes Tactical has seamlessly wedded innovation, quality, and performance in its offerings, making it a popular and respected name in the firearm industry, particularly in discussions centering on superior AR-15 rifles, parts, and accessories. Its commitment to delivering robust and reliable products echoes vividly across its diverse product line, affirming its place in a guide spotlighting distinguished AR-15 part brands.
Spikes Tactical is synonymous with producing AR-15 rifles revered for their durability, precision, and reliable performance under diverse conditions. The brand takes a holistic approach to design and manufacturing, ensuring that every rifle meets and exceeds industry standards and user expectations. The meticulous attention to detail in the manufacturing process, use of high-quality materials, and adherence to stringent quality control practices underpin their rifles' exceptional performance and longevity.
Moreover, when dissecting the realm of AR-15 parts and accessories, Spikes Tactical continues to shine through its dedication to quality and functional innovation. The brand offers a wide array of features, from upper and lower receivers to bolt carrier groups, each designed to enhance the performance, reliability, and durability of the AR-15 platform. Precision engineering and stringent manufacturing practices ensure that each part performs optimally and enhances the overall functionality and lifespan of the rifle.
Accessories from Spikes Tactical also bear the hallmark of quality and thoughtful design. Each accessory is crafted to provide tangible value, whether in enhancing the rifle's performance, user comfort, or aesthetic appeal, from handguards to muzzle devices. Spikes Tactical has consistently demonstrated a keen understanding of shooter needs, providing accessories that are not only durable and reliable but also practical and user-friendly.
What further distinguishes Spikes Tactical is its commitment to seasoned shooters and newcomers. Their products cater to a broad spectrum of users, providing solutions for diverse applications, whether for professional, defense, or recreational use. Moreover, their dedication to customer support and education ensures that every user feels confident and supported in their journey, whether building a new AR-15 or upgrading an existing one.
Spikes Tactical, with its blend of quality, innovative design, and commitment to user satisfaction, not only cements its position in the industry as a reliable brand but also validates its inclusion in any discussion or guide aimed at spotlighting the epitomes of quality and reliability in the AR-15 domain. Therefore, for builders and enthusiasts who seek a brand that intertwines consistent performance, durability, and user-centered design, Spikes Tactical stands out as a choice that proficiently marries all these attributes.
Optimizing Your Build: Navigating Through the Top Tier of AR-15 Parts
Navigating the nuanced world of AR-15 parts demands a discerning eye and a wealth of knowledge. With this guide, we've journeyed through a mere snippet of the top-tier brands available at Black Rifle Depot, each bringing unique offerings and distinctions in the expansive universe of AR-15 components. Magpul Industries, Bravo Company USA, Geissele Automatics, Knight's Armament Company, Aero Precision, Anderson Manufacturing, Daniel Defense, and Spikes Tactical, each spotlighted for their merits, have been highlighted not as the exhaustive list but as a curated collection exemplifying reliability, quality, and innovation in their products.
The rich tapestry of products from these brands offers many options to optimize your AR-15 build, whether your focus leans towards precision, affordability, or bespoke applications. It's crucial to acknowledge that the firearm industry is teeming with manufacturers vying for the attention of both seasoned and novice builders, with the brands discussed herein representing a slice of the broader, prolific market.
While this guide provides a comprehensive look at some popular choices, it's paramount to remember the universe of AR-15 parts is vast and dynamically evolving, with myriad options available to meet varied specifications and preferences. At Black Rifle Depot, the array of brands presented assures quality and reliability in your build. As you step forward into your next AR-15 build or enhancement, we invite you to explore these options and beyond, ensuring your rifle is the epitome of precision reliability and tailored to your unique needs.

Recent Posts
Choosing the Right Optic for Your AR15: A Comprehensive GuideSelecting the ideal optic for your AR15 …

Decoding the Appeal: 10 Compelling Reasons to Own an AR-15 RifleIn the realm of firearms, few rifles …

Navigating the AR-15 Rifle DebateThe AR-15 rifle, a symbol of versatility and precision in the world …