AR 15 Parts for Beginners
Building, putting together, or assembling your own AR 15 can be both fun and rewarding. At least after you get over the hesitation you may feel at the prospect of trying this without any guidance. This short article should give you a little piece of mind, even though it does not actually share any specific instructions about assembly. Why? Because there are loads of walk through videos for assembling or installing every single individual part. This article is about what you should know before beginning the process.
Oh yeah, there is something special about choosing each and every part of your rifle. Each piece you choose alters the look, function, and reliability of the weapon. Knowing what you need is important, as well as deciding on exactly how much of the rifle you want to put together yourself.
Consider this Before Building Your Own AR 15
The first thing you think about is are you going to buy any of the parts pre-assembled. Such as the lower receiver or upper assembly. Having these assembled by an armorer is typically a good idea. Proper assembly of these components require special tools and techniques.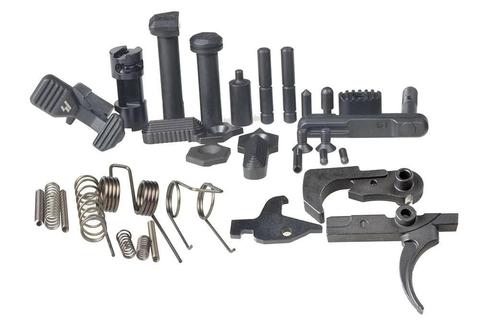 For new builders, we suggest starting with an assembled or complete lower. You may purchase one from your local FFL Dealer. From there you can get all the other required components online without special procedures. Black Rifle Depot specializes in all the things required to "build" your very own custom AR 15 ~except for the Lower receiver. You can buy one of the best lower parts kits from BRD if you want to purchase a stripped lower receiver from your FFL Dealer.
We also think it is a good idea to first purchase a preassembled upper if you do not have the armorer's tools and knowledge to do it yourself. Buying an upper is a big deal. You want to be sure it meets all of your requirements and expectations. Also making sure you get one from a reputable source with a rock-solid warranty is a must.
Where to Buy the Best AR 15 Uppers and AR 15 Build Kits
lack Rifle Depot is a great place to buy an AR 15 upper or an AR 15 Rifle Build Kit. They come with everything you need to put one together yourself, with the critical parts already properly assembled for you. Everything they sell comes with the BRD Lifetime Warranty that covers everything. That is as long as you use a factory machined, high quality, mil-spec lower. This is due to the fact that tolerances are so tight even a thousandth of an inch off can mean the entire build may be misaligned.
Where Can I Buy Parts to Build an AR 15?
The best place to buy parts to build an AR 15 is Black Rifle Depot. They have industry leading 5-star service, incredible prices, and a huge selection of in-stock inventory to choose from. They carry absolutely everything you need to finish building out your lower receiver.
They have Build Kits for AR 15 rifles and pistols, in calibers such as 5.56, .223, and Blackout. They also stock products for AR 10 in .308 caliber. Sure, there are others such as 6.5 but they are not popular enough to keep these in stock.
Black Rifle Depot buys all of their products in large enough quantities to get and pass along a lower price than other distributors. They have a few of their own BRD brand products manufactured because they sell so many, and they want to ensure the very highest quality. One such product is their popular AR 15 Lower Parts Kit.
How to Take Apart an AR 15?
It is very similar to the way you eat an elephant, one piece at a time. We actually have a great article on how to field strip an AR 15 you should read. It has pictures and clear concise directions for taking apart an AR 15 without any tools. We strongly suggest again that you become very comfortable disassembling and reassembling your AR 15 without tools before attempting to disassemble anything requiring tools and specific techniques.
The main thing we want to impart with this article is you should become very comfortable with your weapon, its assembly, and its parts. You should have a strong working relationship with your AR 15 rifle before you take on the responsibility required to "build" your first AR 15 or variant.
Recent Posts
The future of the AR-15The AR-15, born from the innovative mind of Eugene Stoner in the late 1950s, …

Is the AR-15 suitable for hunting?When it comes to hunting, traditional bolt-action rifles have ofte …

The AR-15 in the Context of Home DefenseThe topic of home defense is a contentious one, filled with …